India's capital city has been choked with heavy pollution in recent winters, thanks to more cars, construction and diesel generators, along with the city's bowl-like setting that traps dirty air when the weather is cool. Since at least 2011, air quality has sometimes been worse than notoriously polluted Beijing.
But in one Delhi neighborhood right now—Anand Vihar, a residential and business district across the Yamuna River from New Delhi's leafy government seat—the levels are astoundingly high today, even by the city's dismal standards. The most recent readings of PM 2.5—the tiny particulate matter that causes the most damage to human health—are the highest in the world at 580. PM10 levels, which measure larger particles, are even worse, and this is all before rush hour morning traffic begins: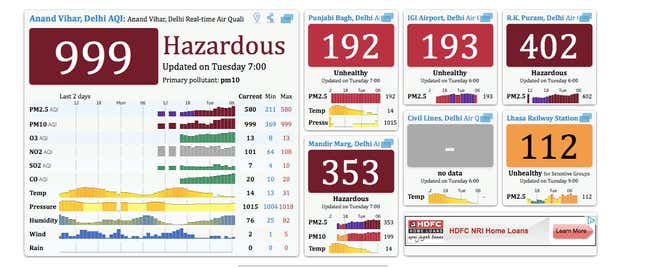 The air in the rest of Delhi isn't faring much better—it is rated "unhealthy," or "hazardous" throughout the city. Illegal rice farm debris fires in Punjab likely have something to do with the increase, which could explain why PM 10 levels are so much higher than PM 2.5.
Here's how Anand Vihar stacks up to the rest of Asia on Tuesday morning at 7:10am in India, according to AQIcn.org's real-time pollution map.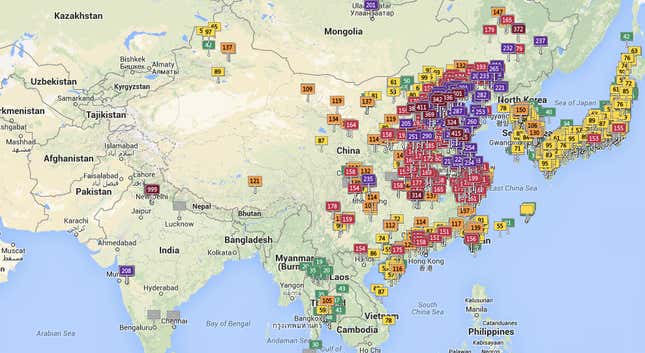 Outside of Anand Vihar, the worst offender in Asia on a PM 2.5 basis right now is Wucheng, China, with a PM 2.5 level of 469. The air in Europe and the Americas is considerably cleaner, with the trouble spots in Tel Aviv (PM 2.5 156) and Tulare, California (PM 2.5 161).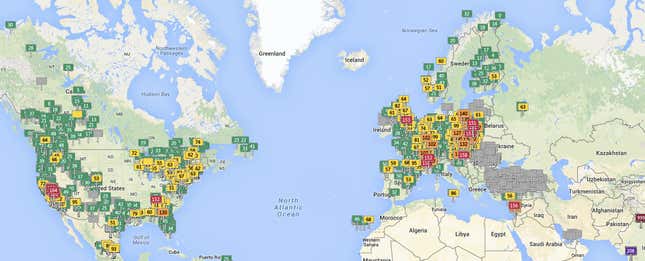 Beijing, which is enjoying a stretch of cleaner air thanks to factory shutdowns and school and business closures for the APEC summit, clocks in at a relatively green 48 PM 2.5.

The PM 2.5 levels in Anand Vihar have been rising fairly steadily in the past 24 hours, according to data from the Delhi Pollution Control Committee, another indication that the cause might be something temporary, like a wind-born pollutant.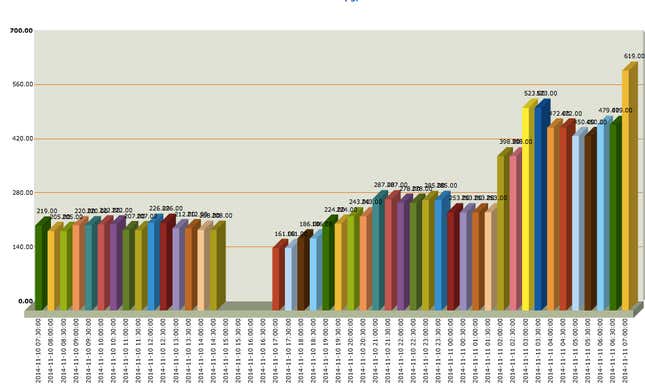 India's pollution measures are notoriously inaccurate, thanks in part to shoddy equipment and bad data collection. But even the US embassy, which is located across the Yamuna in a green enclave, is measuring Delhi's PM 2.5 at a miserable 270 right now.