Apple has had more than its share of setbacks in China, but the company just cleared a major hurdle: A newly established partnership with UnionPay, the state-run firm that has a virtual monopoly on processing payments between merchants, banks, and credit card companies.
The deal announced today will allow Chinese consumers to link their UnionPay debit or credit cards to Apple's app store, enabling one-tap payments from within apps on their iPhones and iPads. Previously, customers could only set up payments through mobile carriers, top-up credits, or third-party credit cards that are uncommon in China.
UnionPay and Apple have been working on a deal for months, and were close to announcing the rollout of Apple Pay in China when talks hit a snag—the details of which are not clear, but which may reflect the government's unease at Apple establishing a foothold in China's lucrative online payments sector.
Chinese news site Caixin reported this week that UnionPay is keeping a tight grip on the interbank payments sector, with Beijing enacting new standards that make it almost impossible for foreign companies like Visa and Mastercard to compete—despite the World Trade Organization's ruling that China must open up its market by August next year.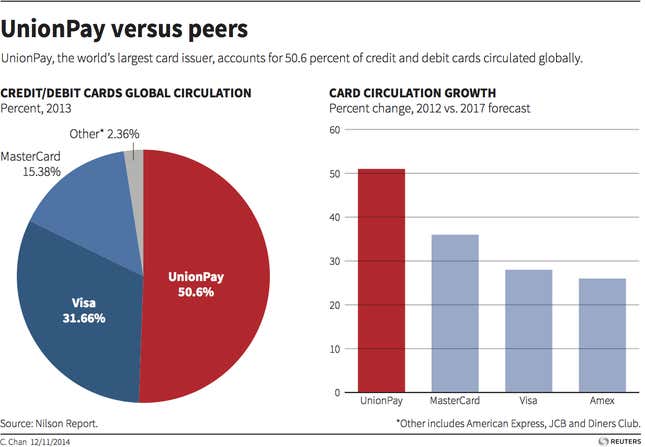 UnionPay has also been fighting a regulatory battle against Alibaba's wildly popular Alipay service, which has set up an alternative payments network. The CEOs of Apple and Alibaba engaged in a public flirtation last month, driving speculation that an Apple Pay-Alipay deal could also be in the works.
Even if Apple's UnionPay deal doesn't enable the full rollout of Apple Pay in China, it's still a major win for the US company, since China is already Apple's second-largest market for app sales. And making Apple's app store easier to use in China may also be a boon for security: A recent exploit that installed malware on Chinese iPhones was traced to a third-party app store for Mac OS software.