British wallets are getting fatter. But only very slightly fatter—median weekly earnings for full-time workers rose by a mere £1 ($1.57) this year, from £517 to £518 ($808 to $810), according to a new report on earnings by the national statistics body.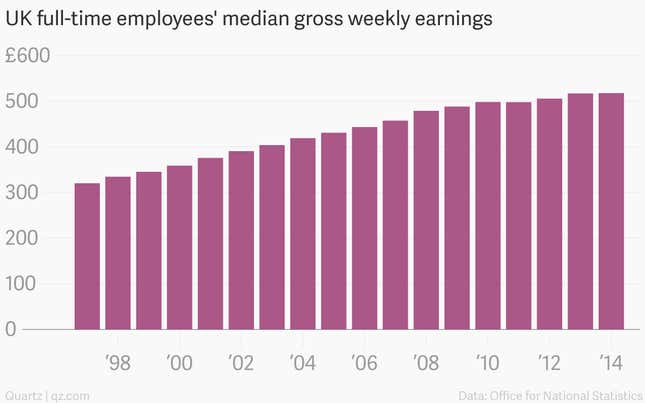 In fact, even calling it a £1 raise is generous—that's rounded up from the actual raise of just 60 pence, as revealed in the detailed data. That's barely enough to splurge on an extra loaf of bread (supermarket brand, naturally).
The 0.1% annual increase in weekly earnings was the weakest since the Office for National Statistics started its annual survey in 1997. It also marks the sixth consecutive year that earnings growth has lagged inflation, which means that in real terms the average worker is in fact getting poorer: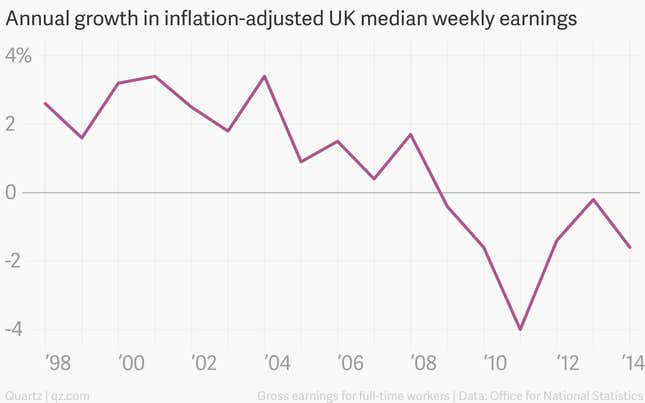 This data, while more comprehensive than other reports, is only published annually and is based on information from April. More recent monthly measures, which can be volatile, have shown wages just edging out inflation. This is thanks in part to historically low inflation, which the Bank of England thinks might soon fall below 1%. The central bank reckons that average inflation-adjusted incomes, which include more than just wages, will rise by just over 1% both this year and next.
The UK's economy is growing faster than many other advanced countries' and its jobless rate has dropped below pre-crisis levels. But its workers are curiously unproductive—economists have dubbed this the "productivity puzzle" (pdf)—which is one factor behind the weak wage growth. As political parties gear up for a general election in just under six months, they are honing their pledges to boost incomes in hopes of winning the votes of disgruntled workers.
Here's a constituency to target first: Another depressing dataset published today showed that some 236,000 people are employed but earning below the minimum wage. That's roughly the population of Swansea.