A sharply-worded screed that recently appeared in the The Telegraph put it rather bluntly—"If you're under 30, bad luck. You're screwed." Meanwhile, The Atlantic (a sister publication of Quartz) explored "Why it's so hard for millennials to find a place to live and work."
By most economic measures, the young were hit hardest by the global financial crisis. The recovery hasn't been very kind to them, either, particularly in relation to older generations. This is perhaps most starkly illustrated by trends in pay.
As we wrote recently, new data on average wages in the UK paint a dreary picture for British workers. When adjusted for inflation, the typical worker's weekly pay today is 5% less than it was 10 years ago. What's even more striking over this period is how poorly young workers have fared in relation to older ones. In fact, over-60s are the only group to see their earnings rise faster than inflation over the past decade: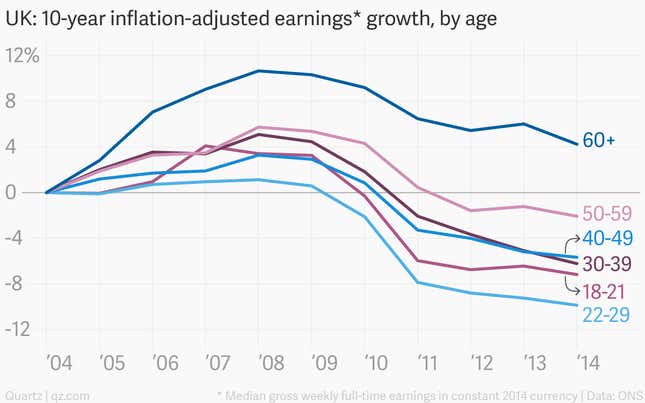 A trio of academics crunched similar numbers earlier this year (pdf) and found that real wages for Brits under 25 had fallen below what similar twentysomethings made in 1988. Put another way, young workers today earn less—after adjusting for inflation—than their parents did at the same age. No wonder young Brits are finding it so hard to buy a house, among other things that came easier to earlier generations.
This isn't a uniquely British affliction—earnings growth shows a broadly similar trend in the US. The stats aren't directly comparable, due to different age breakdowns, but just as in the UK, the oldest group of American full-time employees is the only group to enjoy an inflation-adjusted raise over the past 10 years. And likewise, it's the millennials who are suffering the most: