On Sunday (Nov. 23), three astronauts—an American, a Russian, and an Italian—escaped the surly bonds of earth and voyaged to the International Space Station, the giant orbiting research vessel that they'll call home for the next five months. The explorers were greeted by three of their crewmates who, a few weeks earlier, traveled to the ISS in a separate launch. This was the 42nd expedition (pdf) to the station, the latest chapter of a program that has continuously dispatched astronauts to it since 2000.
Launch sites used to alternate between NASA's Kennedy Space Center and the Russian Federal Space Agency's Baikonur Cosmodrome in Kazakhstan. But when the American space shuttle program retired in 2011, Baikonur became the sole launch site.
As a result, all astronauts are now also cosmonauts, and some aspects of the pre- and post-launch itinerary have a distinctly Russian—and Kazakh—flavor. NASA's Flickr page contains images from the last 20-plus launches, and many of the same themes recur again and again, highlighting the sometimes banal, sometimes quaint, and sometimes surreal steps involved in preparing for launch in the modern era of spaceflight. The photos below are from a combination of recent expeditions, but the rituals remain the same each time.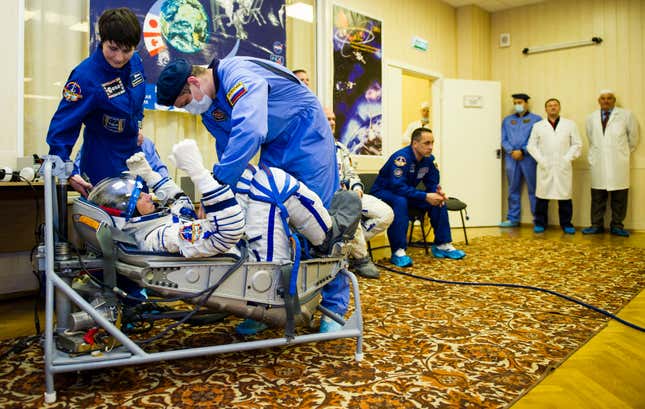 Expedition 40's Reid Wiseman, of NASA, has his spacesuit pressure-tested. He's lying in his Soyuz capsule seat, which has to be custom-molded to each cosmonaut's body to prevent injury on landing.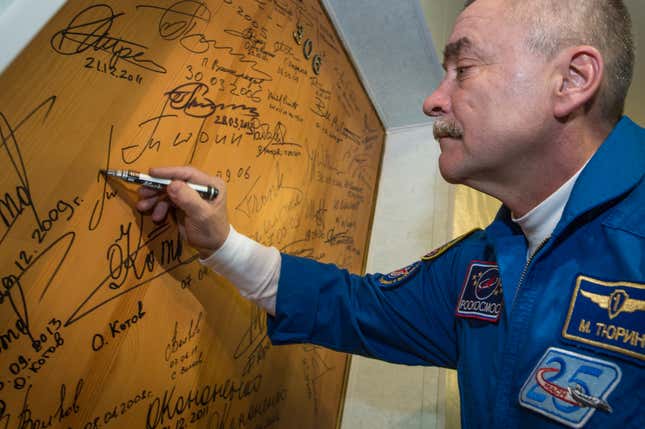 Expedition 38's Mikhail Tyurin of Roscosmos signs the door of room 306 at the Cosmonaut Hotel. Several doors are now filled with cosmonaut signatures.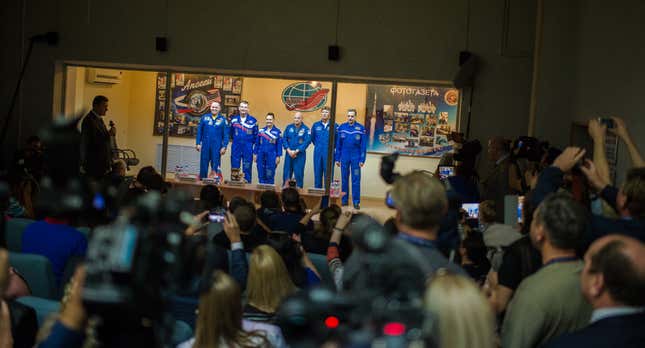 The quarantined crew members of Expedition 41 pose for a picture from behind a glass wall at a press conference.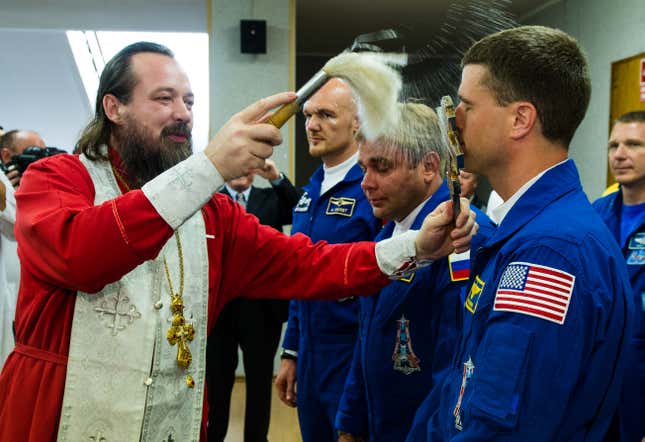 Expedition 40's Reid Wiseman receives the traditional blessing from a Russian Orthodox priest.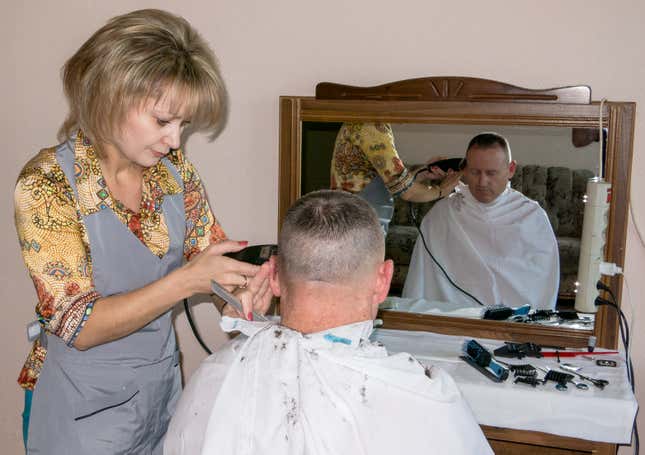 Expedition 41's flight engineer, Barry Wilmore, gets his hair cut at the Cosmonaut Hotel.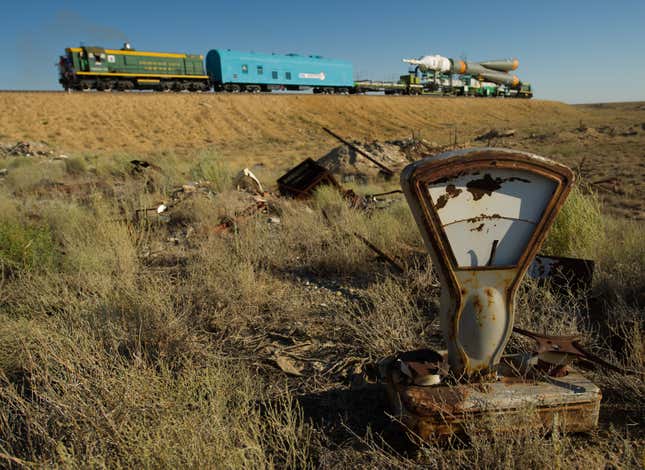 An aging locomotive rolls the Soyuz TMA-05M spacecraft from the hangar to the launch pad at the Baikonur Cosmodrome.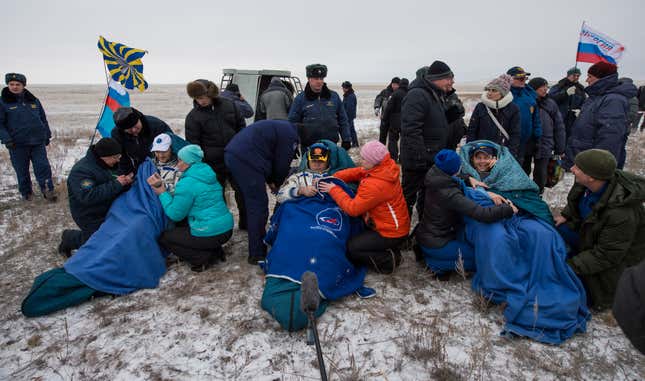 After landing in the snow in a remote area near the town of Arkalyk, Kazakhstan, the crew of Expedition 41 is immediately wrapped in sleeping bags and blankets.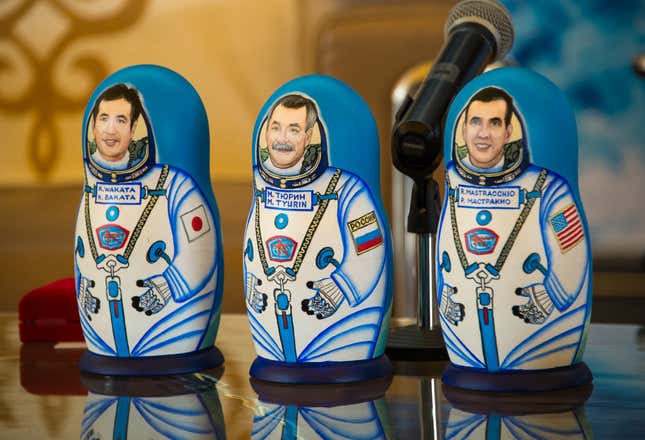 Matryoshka dolls depicting the flight crew are made for each expedition. This is Expedition 39, seen at a welcome ceremony after the cosmonauts return from space.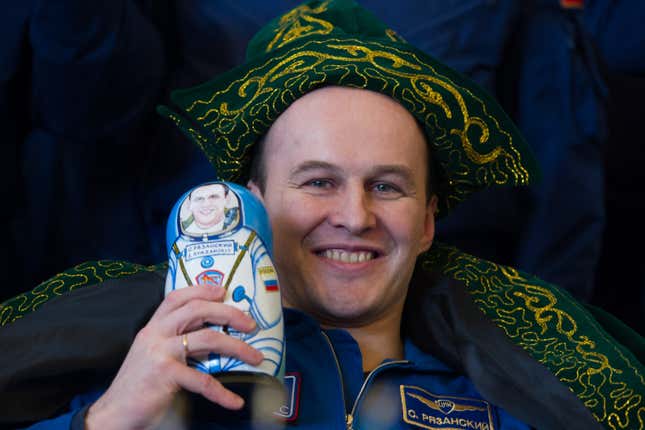 Expedition 38's flight engineer, Sergey Ryazanskiy, poses with the matryoshka of himself, and his Kazakh costume.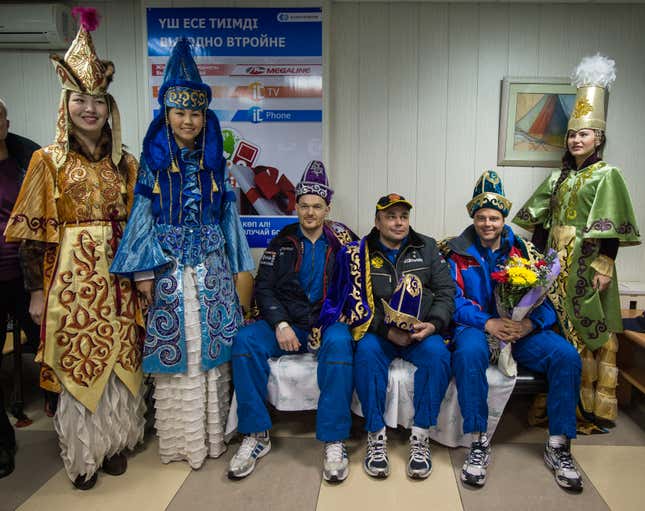 The crew of Expedition 41 pose for the obligatory photograph with women in Kazakh ceremonial dress soon after returning to earth.