The Russian economy will barely eke out any growth in 2014, and its prognosis for the next two years is no better—which wouldn't be so bad considering that plunging oil prices and Western sanctions mean the risks of outright recession are rising by the day. Yet Russia's central bank just hiked its benchmark rate for the fifth time this year, from 9.5% to 10.5%.
What gives? A nasty case of stagflation, that's what. In addition to weak growth, inflation is spiralling upward. Today the central bank said that inflation might top 10% early next year, or double its target level. The price rises are being stoked by the collapsing ruble, which has lost some 40% of its value against the dollar so far this year, in turn pushing up import prices.
The central bank's last rate hike, which was even more aggressive than today's, bought the ruble a brief respite, aided by the intervention of none other than Vladimir Putin. The Russian president recently has been decrying "speculators" for artificially pushing the ruble down, and vowing to take harsh (but vague) actions to stop them. It hasn't worked: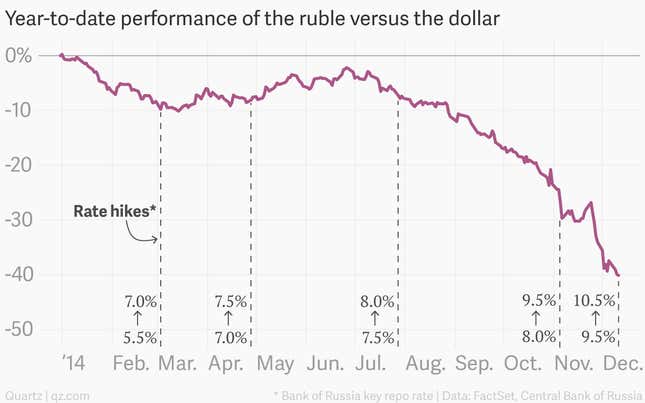 Today's rate hike appears to have done even less for the ruble than last month's attempt. Subject to the ruble's normal volatility, traders seem nonplussed by the move, with the currency trading around 1% lower against the dollar at the time of writing. A Moscow fund manager called the central bank "spineless" for not jacking up rates even higher.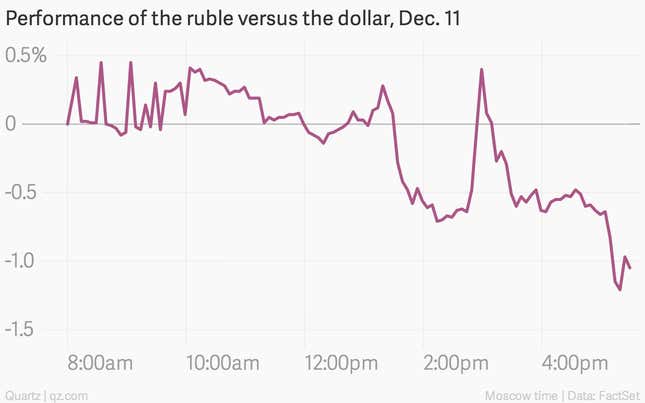 Meanwhile, the central bank's key rate is nearly double what it was at the start of 2014, when it was at 5.5%, which translates into significantly higher borrowing costs for companies and consumers.
This is the tricky trade-off that central bank chief Elvira Nabiullina must make—choke already weak growth with higher interest rates, or risk runaway inflation and a collapsing currency by keeping rates on hold.
More than $100 billion in capital flight is expected both this year and next, which will put a sizable dent in the country's $400 billion or so in foreign-exchange reserves. When Putin unexpectedly offered no-questions-asked amnesty for Russians to bring offshore funds back home, you knew things were serious. The question now is whether Moscow, apparently game to use any of the tools at its disposal to steady a teetering economy, can find something that actually works.