This year was Apple's most exciting in a while, especially after a relatively dull 2013. The company showed off a range of new products, including its first major new "category" in a while, the Apple Watch. It made a big deal in buying Beats. And it provided a mostly promising view of the future for users, employees, and investors. Here are some of the most important things we learned about Apple this year:
1. Apple is still subject to unexpected failure.
The iPad's continued slowdown this year is surprising and rare. Not long ago, the iPad was supposed to be the future of Apple, and the poster child of the "Post-PC Revolution." But Apple's iPad business, which has seen sales declines in four of the past six quarters, is now likely to shrink this year.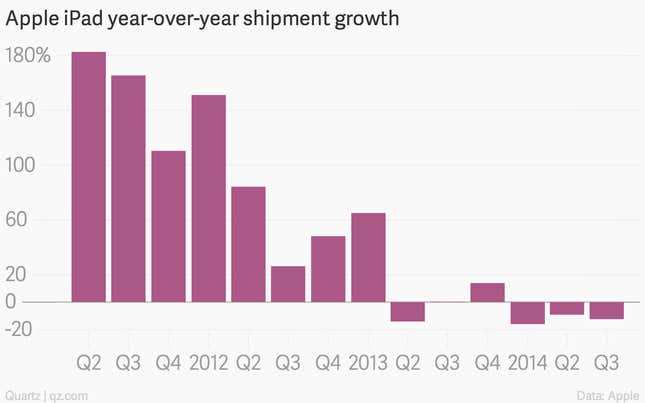 The iPad is still a big business—more than $30 billion in sales over the last four quarters—but it's also a real question mark. It took the iPod years longer to start shrinking, and the iPhone is still growing seven years after launch. Perhaps the picture will be more clear in a year if Apple shows more clues about how the Mac and iPad lines might further converge. Apple CEO Tim Cook, for the record, has outlined a bright future for the iPad.
In the meantime, Apple has tasked IBM—seriously, it seems—with trying to help make iPads more useful to corporations. It recently showed off its first results, a series of corporate iPad applications for airlines, banks, and other types of companies.
2. Apple wasn't building a spaceship this whole time. It was creating jewelry.
Many—myself included—were expecting something different from Apple's secret wearable-tech project; something that didn't look anything like a watch. Perhaps, say, a sleek, $100 armband with a magically long battery life. But instead, it is a watch that looks like a watch. Kind of chunky, actually, and with just around a day of battery per charge.
Instead of a simple accessory full of sensors, Apple is building wrist computers—and drifting toward the luxury market.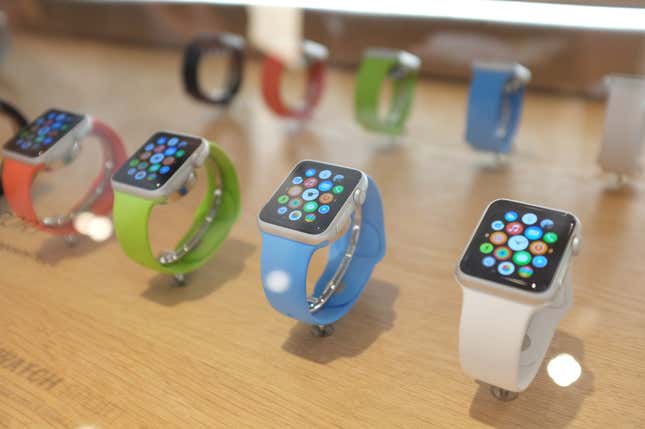 3. Apple has been (mostly) listening to Wall Street.
It would be tempting for a company like Apple—top of its game, flush with cash—to blow off Wall Street. But as Apple's revenue growth has slowed, Cook has done a great job with what my colleague Matt Phillips calls "the company's difficult transformation from a high-growth stock market story to a more staid, but still incredibly profitable, dividend-paying blue-chip." Cook also dealt well with famous activist investor Carl Icahn, who wanted Apple to buy back more of its shares.
Apple stock tells the story—it's up about 40% this year, and set new all-time highs late last month.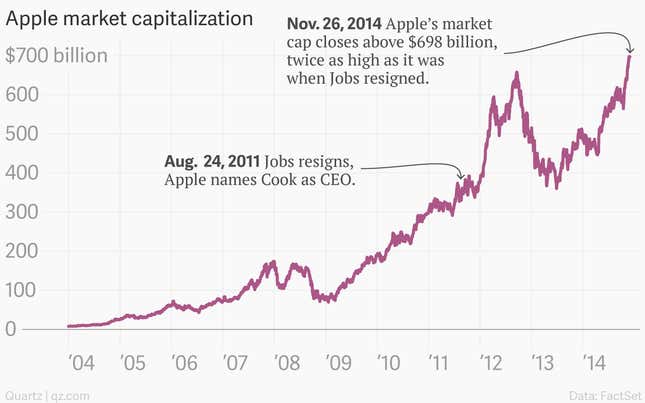 4. Apple's software quality still needs a boost.
This isn't the case of one big disaster, but instead a wide-ranging list of examples that suggests Apple isn't sweating the details the way its reputation demands. For example, Apple shipped an iOS 8 update this fall that included a significant bug that should have been discovered in quality-control testing. Features like AirDrop only seem to work by accident. Apple Maps is still not in the same league as Google Maps. Here is an entire list of Apple-watchers talking about a decline in software quality.
Growth is hard, and Apple's growing number of products and platforms demands more updates, more often. Meanwhile, Apple faces stiff competition, both in its product markets and in recruiting talented engineers. In an ideal world, Apple might do something like take a year off from adding new features and just focus on making everything more stable and in harmony. But Apple likely doesn't have that luxury.
5. Apple is actually willing to do large acquisitions.
For years, as Apple's cash balance grew, industry observers conjured multi-billion-dollar fantasy acquisitions for the company: Adobe, Twitter, Adobe again, and Tesla, for example. But Apple simply never did big deals—its acquisitions over the years were always relatively small pick-ups for technology, people, or both.
"We don't have a predisposition not to buy big companies," Cook told the WSJ earlier this year, before Apple's $3 billion Beats acquisition leaked. "But we're not going to go out and buy something for the purposes of just being big."
Apple's deal for Beats was its biggest ever in dollar terms, and had many surprising aspects. But it seems more of a one-off than any sort of new big-buy strategy. Still, novel and interesting.
6. Apple's Mac business still has some growth left.
For a while it looked like the Mac was in permanent decline, after shipments peaked at 5.2 million in the Dec. 2011 quarter. But last quarter, Apple sold 5.5 million Macs, a new record. And between its super-sharp retina iMac, a rumored update to the MacBook Air that sounds enticing, and the questionable status of the iPad, it seems the Mac is enjoying new life.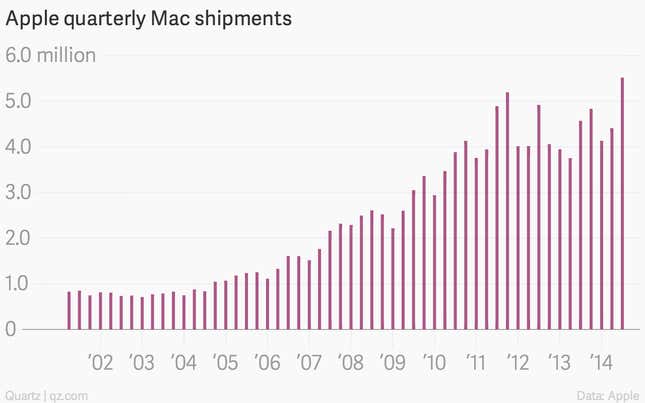 7. Apple is happily a late adopter.
Sometimes Apple is a tech pioneer. It was among the first PC makers to popularize USB on the original iMac. Its first iPod was designed around a crazy-small hard drive format. And its iPhone 4 "retina" display in 2010 was the first major super-high-resolution screen on a mobile device. But for years, people have wondered if and when Apple would start including NFC (near-field communication) chips in its products.
And then this year—seemingly out of nowhere—the iPhone 6 and 6 Plus shipped with NFC to support the company's new Apple Pay mobile-payments service. In this case, being a late adopter paid off, as there are now enough stores with NFC-equipped point-of-sale terminals to make Apple Pay somewhat widespread. If Apple tried pushing NFC a few years ago, as Google did, it would have been a less-compelling story.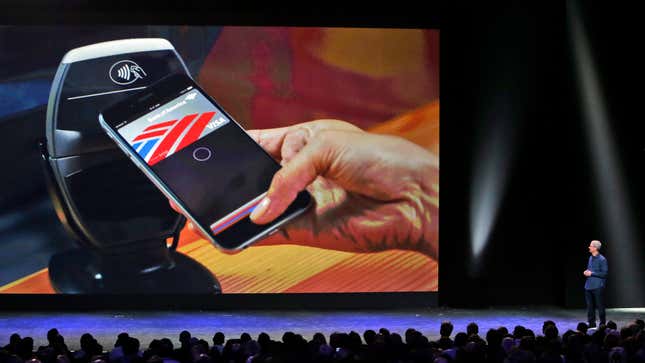 8. Apple has been (mostly) listening to software developers.
The last few weeks haven't been a great example, as Apple has once again been making life difficult for a small percentage of app makers. (Specifically, it has been rejecting apps or demanding modifications for seemingly arbitrary reasons, and then reversing some of those decisions after getting bad press. This inconsistency is infuriating to app developers, and suggests missing leadership.)
But, bigger picture, this was a good year for many current and would-be Apple developers. The company opened up iOS in a surprising way, giving app developers many new tools and points of access. This permitted new types of apps, such as custom keyboards, and made it easier for apps to talk to each other. And unlike the original iPhone, the first-generation Apple Watch will support third-party apps—another win for app makers. Apple also unexpectedly unveiled a new programming language, Swift, which could eventually become the go-to language for building apps on Apple platforms.
9. Apple really likes celebrities. Maybe too much.
Apple has always had a Hollywood connection—remember the Mac on Jerry's desk on "Seinfeld," or those Jeff Goldblum ads?—but things seem to be intensifying on Apple's end, and maybe not for the best. The company really went all-out getting famous people to attend its Watch/iPhone unveil in September, which finished with a weird skit between Cook and U2's Bono.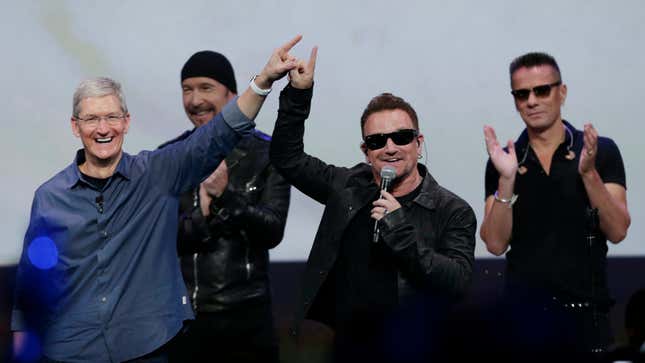 A few weeks later, Apple co-hosted a VIP event at Paris Fashion Week for the Apple Watch, and there was a fancy dinner with models. Its recent iPhone commercials, narrated by Justin Timberlake and Jimmy Fallon, aren't great.
We'll cut Apple some slack for incorporating "new hire" Dr. Dre into this year's WWDC keynote. Perhaps this is just the new reality of Apple growing mainstream. But it feels a little weird sometimes.
10. Apple CEO Tim Cook is "proud to be gay."
It's rare that a CEO's personal life makes it into a year-end roundup about the company. But Cook's essay about his sexual orientation in late October was emblematic of Apple's—and his own—mastery of public relations. So it deserves special mention.
It was kept secret. It was properly placed—on Bloomberg Businessweek's website, a publication with the right mix of seriousness, global recognition, and personality. (The magazine had just done a cover story on Cook.) It was perfectly timed, shortly after the company had reported strong quarterly results and not long after announcing the Apple Watch, the first Apple product that seems more Cook than Steve Jobs. It was well-written, designed, and produced. It was a strong, powerful message. And it quickly drew rave reviews.