China's corruption crackdown and falling real estate market have hit Macau gaming hard, and casinos there now need desperately to diversify to continue to grow, experts say. That's because casinos in Macau offer a kaleidoscope of games for gamblers, but only one game brings in the big cash: baccarat, and more specifically "VIP baccarat," where high-stakes gamblers place huge bets using borrowed cash.
More than 91% of Macau's casino income for the first three quarters of 2014 came from the simple, fast-paced card game, according to the local gaming bureau. Macau gamblers play typically play a variation called punto banco, or North American baccarat, in which players compete to get cards that add up to nine points. The game is purely luck—no strategy is involved—which appeals to superstitious gamblers who believe that winning should be a matter of chance, not skill.
Gamblers in Las Vegas, on the other hand, where revenues have been relatively stable, embrace a great variety of games (although mainland Chinese play at a lot of baccarat there too):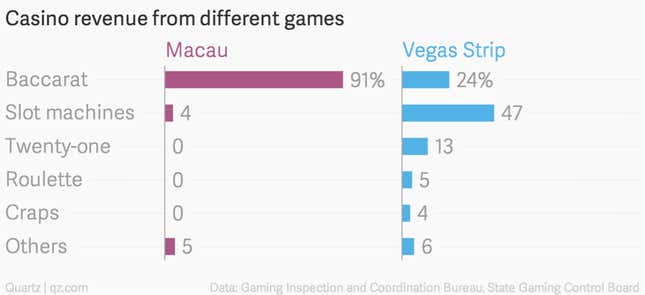 Macau has suffered a continuous drop in gaming revenue though the second half of 2014, and revenues in November were 20% lower than last year, totaling $3.04 billion.
Much of that drop is due to "VIP baccarat," which is historically responsible for about two-thirds of Macau's gaming revenues. It brought in 166.5 billion Macanese patacas ($20.5 billion) in revenues for the first three quarters of 2014, compared to 173.6 billion ($21.7 billion) in the first three quarters of 2013. Per-game figures aren't yet available in Macau for October or November, but analysts expect the decline to steepen.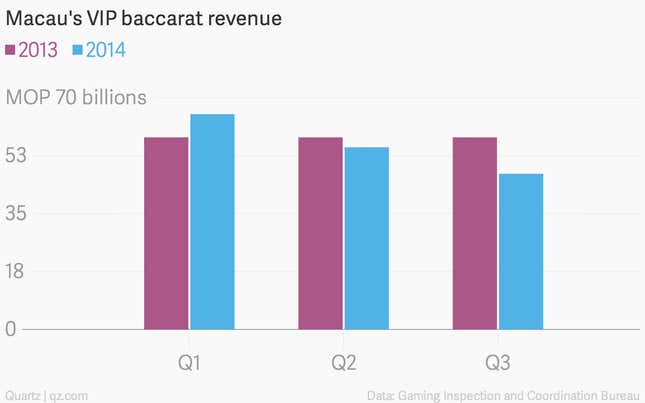 Macau's "VIP baccarat," which is usually conducted in special rooms and for high-stakes bets, allows mainland Chinese to evade strict rules against taking currency out of the country. The loophole works because Macau junket operators lend these "VIP" players cash, which is then repaid with mainland funds. But those junket operators have been specifically targeted by China's corruption crackdown, in part because the game also works as a channel for money laundering.
Macau's gaming industry is now built on a shaky foundation (link in Chinese), according to Su Guojing, chairman of Asian Responsible Gaming Alliance, a Macau based non-governmental organization. "In Las Vegas, slot machines make up 70% of the gaming revenue. In contrast, what brings the most revenue in Macau is VIP baccarat," he said.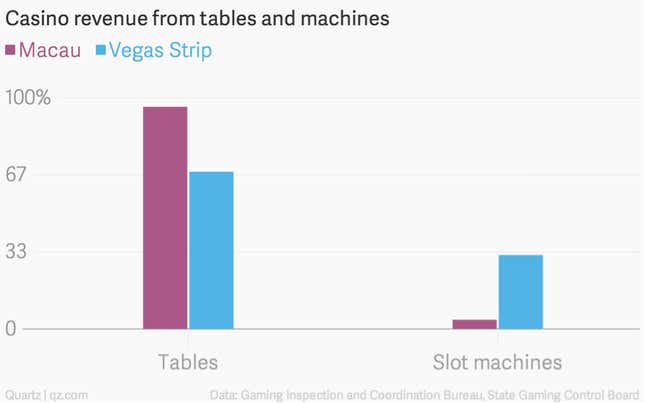 Making things worse, the house advantage—the built-in odds that dictate how much money casinos will win from gamblers over time—is lower for baccarat than any other popular casino game other than blackjack, according to the latest twelve-month summary gaming revenue report (pdf, p.1) released in Nevada. (This information is not available in Macau, but the win percentages are likely to be similar because the same version of the game is played in both places).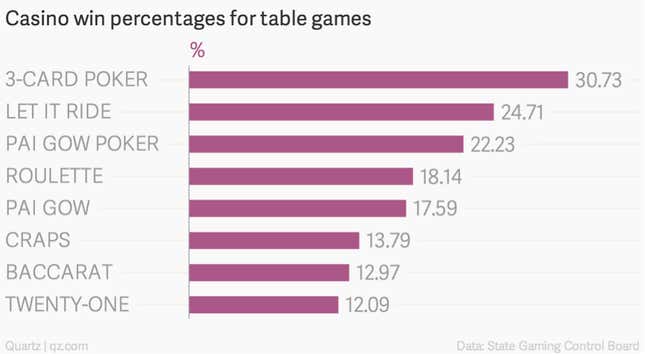 And things are only going to get worse. Beijing is planning to expand its crackdown on Macau casinos, the South China Morning Post reported yesterday, giving the powerful Ministry of Security access to all money transfers made through the ubiquitous China UnionPay payment system, in an attempt to identify suspicious transactions.
So how should Macau diversify? Some analysts, like CLSA's Aaron Fischer, believe the city should follow in Singapore's footsteps and open family resorts. Las Vegas, which gets 80% of its total tourist revenue from non-gaming sectors, is another possible model. Last year attracted over 40% of its visitors for vacation and pleasure (pdf, p.9) while only 15% of visitors came just to gamble.