Chinese factories posted decent profits in October, according to the latest data from China's National Bureau of Statistics. Profits for factories increased 20.5% in October from September levels. That's up from the 7.8% increase posted between August and September. And on a yearly basis, industrial profits have started growing again too.
The October increase pulled industrial profits into positive territory for the first 10 months of the year, after an extended period in negative territory. Here's a look: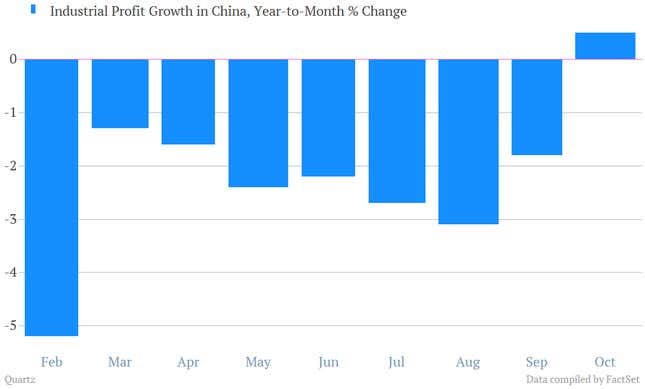 This hardly seems to be a case of laissez-faire at work. Chinese steel makers, for example, have been buoyed by the surge of government spending on railroads that we've spotlighted before, according to Bloomberg:
Most large- and medium-sized Chinese steel mills reversed losses in October, the official Xinhua News Agency reported on Nov. 25, citing Liu Zhenjiang, vice president of the China Iron & Steel Association.
This is a potential boon for a range of regional and global players, as the stabilization of demand from Chinese steel makers has helped shore up prices for iron ore and metallurgical coal, something that will come as a relief to large producers of such commodities, like Australia.