From Apple's financial followers to the culture pages, expect few technology topics to garner as much attention in 2015 as the Apple Watch, which is set to launch "early" in the year.
Why? Because it's not just a new gadget. Several people, companies, and entire industries are counting on it to be a hit. Without hyperbole, the Apple Watch has the potential to create new billionaires and to change the way people live.
Here are a few reasons—from micro to macro—the Apple Watch is shaping up to be the launch of 2015.
It's Apple CEO Tim Cook's first big thing.
Cook—previously Apple's long-time operations chief—has been instrumental in the company's rise to the top of the tech world, thanks to the iPhone and iPad. But those were under Steve Jobs' stewardship. The Apple Watch is the first thing that Tim Cook's Apple has created. On the other hand, if it's a dud, it will raise questions about Cook's ability to lead a product organization.
It could be Apple's next big hit.
The company's meteoric growth has slowed. The Apple Watch, if successful, could become its next growth driver. But it's not going to happen overnight, in part because Apple is already so big. Even if the company sells 10 million watches in 2015 at an average price of $500, that's only $5 billion in revenue—about as much as Apple generates every 10 days, on average.
Note: Apple has already told investors that it won't break out Apple Watch shipments and revenue as a separate product category. (They'll be lumped in with with iPods and the Apple TV.) But the company could, of course, announce sales numbers as often as it wants.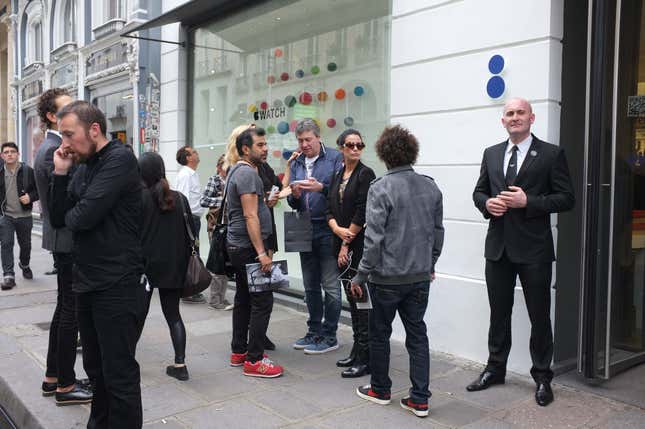 It's going to be everywhere.
Expect Apple's marketing machine to turn it up to a level we haven't seen—especially with its recent admiration for Hollywood celebrities. Imagine Apple Watches on TV, billboards, in magazines, on the red carpet at the Oscars, on runway models around the world, in movies, everywhere. This is fashion, not just a gadget.
It could be the first breakout wearable device.
About 6% of people recently polled by Morgan Stanley currently own a wearable device, ranging from Samsung smart watches to Nike fitness trackers. But there hasn't been a breakout hit. Among brands not yet selling wearables, those surveyed are most interested in a device made by Apple, followed by Sony and Google.
What's at stake? Some expect the wearables market to take off faster than the smartphone or tablet markets before it. For example, Morgan Stanley predicts 70 million wearable shipments worldwide in 2015, growing to 248 million in 2017. (It also estimates that wearables address $1.6 trillion in consumer and business spending, from fashion and fitness to healthcare and insurance.)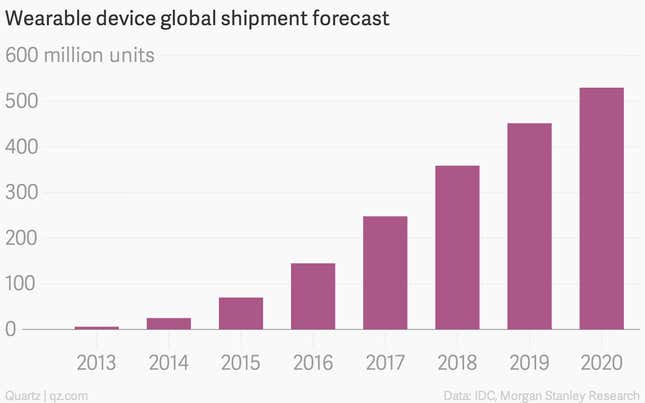 It could make you rich.
The rise of wrist-top computing could create new billionaires (or, at least plenty of millionaires) as entrepreneurs figure out the Apple Watch apps that people actually want to use, and cash-rich incumbents snatch them up. Add-ons ranging from flashy watchbands to wireless earphones could become the next big accessory businesses.
It could torch the watch industry.
About 1.2 billion watches are produced every year—about the same number as smartphones sold. There's the high-end industry, dominated by a few Swiss brands, which has seen recent growth thanks in large part to China's rising taste for luxury. Then there's the mid-tier, where brands like Casio, Seiko, and Swatch dominate. With prices ranging from $350 to several thousands of dollars, the Apple Watch, if successful, could easily disrupt both.
In Morgan Stanley's survey, the watch was the device most likely to be cannibalized by an Apple wearable purchase. The smartphone came in next, but it will be a few more years before the Apple Watch is a serious replacement threat to the iPhone. "Interestingly," the report notes, "respondents in China are even more willing to consider Apple than those in other countries but much less willing to consider Swatch." Look out, Geneva.
It could kickstart the "Internet of Things" revolution.
This is another mega-trend that has been starting to make inroads, but hasn't yet become mainstream. It refers to things like sensors everywhere, persistent digital identity, mobile transactions, self-aware appliances, unlocking your house by waving your watch at the door, etc. Like wearables, the spending estimated to be associated with the Internet of Things is amusingly large: $7 trillion by 2020, according to one guess by IDC. The Apple Watch could be the centerpiece.
It could change the way people live.
One of the key use cases for wearable devices is health and fitness monitoring. And while it's still early, multiple studies suggest wearables could get people to make improvements. In Morgan Stanley's survey, some 62% of respondents said they made significant change or some change in their lifestyles due to their wearable devices. A separate Pew study from 2013 found that almost two-thirds of those who tracked health data said it had either helped change their approach to maintaining their health, led them to communicate more with doctors, or had affected how they treat an illness or condition.
Mobile devices have had widespread impact on how people get online, stay in touch, learn, work, and get around. It's too early to say that wrist-top computers like the Apple Watch will dramatically improve any existing trends. But it's possible.
What if it isn't?
Apple, more than any other company, has the skills to manufacture a gadget hit, from product design to marketing. But what if the Apple Watch just isn't a success? No one would make the claim that 2014 was the year of the Samsung Gear. And in a Quartz poll of US iPhone owners, just 5% said they were very likely or extremely likely to buy an Apple Watch.
The good news: Even 5% of Apple's iPhone customer base is large—almost 4 million people in the US alone. To drive more sales, Apple could also lower prices, as it did when the iPhone first launched in 2007.
There is a lot at stake here, though. If the wearables market takes off as projected, and Apple's platform isn't one of the leaders, it could be a real vulnerability. One more reason for Apple to push even harder this year.