A day ahead of CES's official kickoff, satellite TV provider Dish unveiled a live and on-demand video streaming service that will include ESPN for $20 a month.
For years, cable and satellite subscribers have complained about their exorbitant TV bills, which rose at two and a half times the rate of inflation from 1995 to 2013. As more households cut the cord, many networks, including HBO, began unshackling their offerings. But sports—which commands the highest carriage fees and thus benefits the most from TV's dated business model—has the biggest incentive to stick within the bundle. ESPN's inclusion in Dish's new package suggests that allegiance is slowly faltering, but the bundle's not going away anytime soon.
Dish's Sling TV service—known as an "over-the-top" network, since it uses the Internet instead of traditional satellite or cable TV systems—comes with a stripped-down bundle of a dozen channels, plus additional themed packages (eg. kids or news programming) available for an extra $5 each. While this falls short of true a la carte television, this is probably the closest sports fans will get to a standalone ESPN for a while, since parent company Disney has little incentive to dismantle the bundle entirely.
If the retransmission fees Dish pays affiliates are consistent between TV and web, the satellite company will pay content companies close to $12 per Sling TV subscriber—more than half of that to ESPN alone, according to data from SNL Kagan.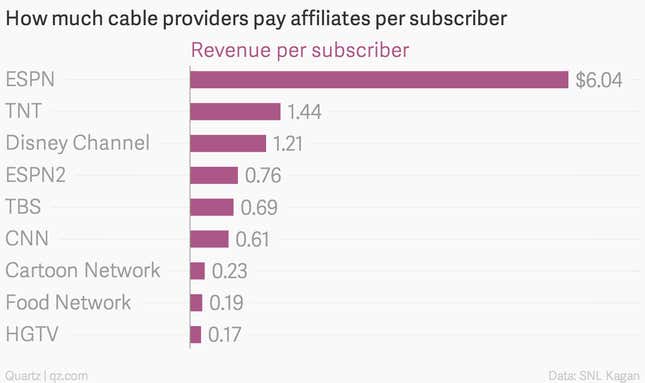 Viacom—which has been in very public spats with Time Warner Cable, DirecTV, and most recently the National Cable Television Cooperative—is similarly protective of its bundle, which includes MTV, Comedy Central, and Nickelodeon. It kept that bundle intact when it struck a deal with Sony last fall to stream content from all 22 of its channels to Sony's connected TVs and PlayStation consoles. So long as such hold-outs have content people want to watch, they'll do their best to keep the bundle alive.