For the past three days, China's Shanghai Composite average has fallen after dipping below 2,000, considered a psychological barrier for investors. The index was down 0.6% today, and 10.4% for the year to date. Conversely, government data on industrial profits, exports and inflation all suggest the slowdown of China's economy could be coming to a happy end. So why the disconnect?
Perceptions of corruption in the country could be affecting investors. When the Shanghai Composite fell to a 43-month-low in September, Chinese netizens made dark jokes on social media about the market's poor regulation and interference from authorities. Today, investors and observers on Chinese social media blamed corruption. One user says, "Here a minority uses regulations to plunder from the majority. This corruption is worse than that of Chinese football," referring to a massive scandal involving officials and players in China's national soccer league that came to light this summer.
Although outgoing president Hu Jintao promised at the party congress in early November that China would crack down on corruption in order to save the country, numerous allegations have been scandalizing the public since. Earlier this week, the New York Times released a report on how family relatives of outgoing Chinese premier made a windfall of millions of dollars from their holdings in state-owned insurance company Ping An Insurance. Yesterday, a Chinese village official was put under investigation for possibly owning 80 homes and 20 cars. A communist official was sacked last week after the publication of a tape showing him having sex with an 18-year-old woman. Fallen ex-Chongqing party chief Bo Xilai had originally helped him cover up the video. In September, officials tried to cover up a fatal Ferrari accident involving the son of a senior Chinese official and close ally of Hu.
This is what Chinese investors hope the stock market will do.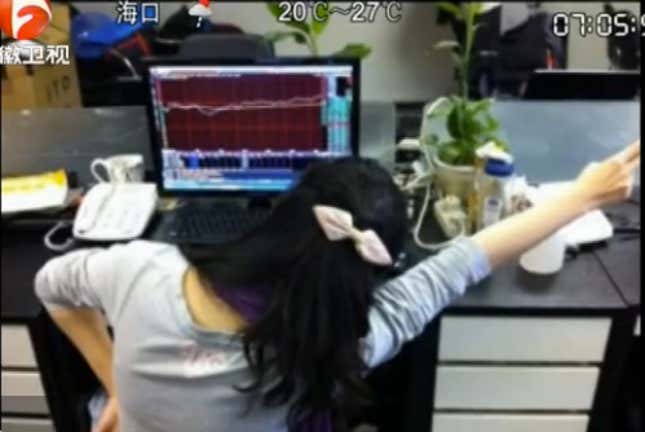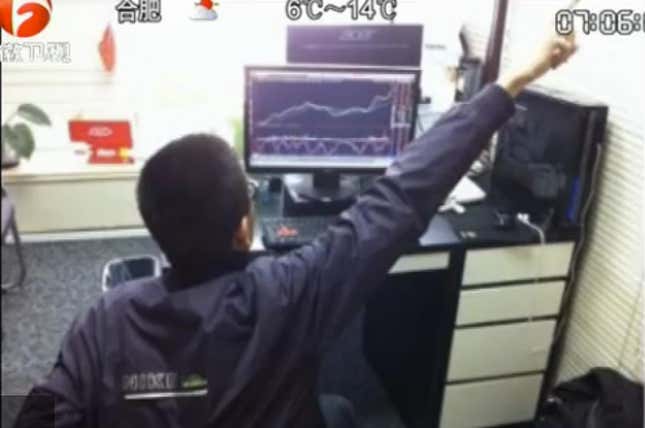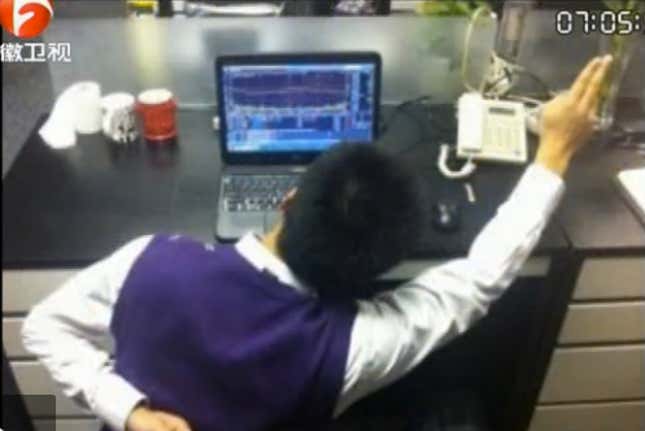 This is what the stock market is actually doing as of close of Nov. 28.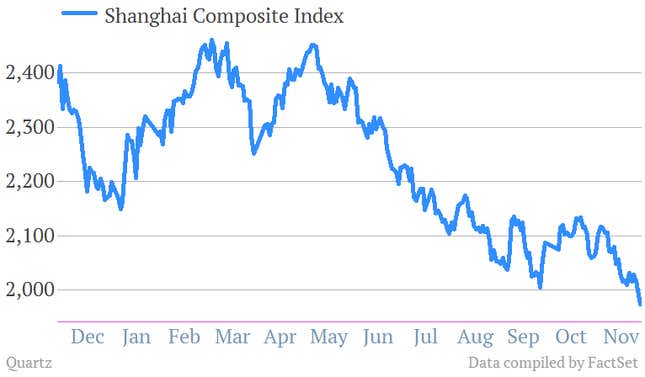 Another possible reason for the heightened skepticism in China is the ongoing leadership change. The Chinese stock market is dominated by retail investors rather than institutional investors, meaning sentiment among individual Chinese investors matters greatly. As MarketWatch points out, "… China's domestic market is more prone to crowd psychology and thus more vulnerable to selling pressure in spite of convincing data showing conditions are stabilizing."
Following China's party congress in early November, those waiting for announcements of government support for the market were disappointed. China's stock market regulator Guo Shuqing has made no definitive statements other than saying that he has confidence in the stock market. Reforms could still be announced at a working meeting next month when the government will set growth targets for the country, but so far, the new politburo standing committee has made no major moves on economic policies. Disappointment could have turned into panic as Chinese media over the past few days have all but said the world is ending.
Danwei's collage of Chinese front pages on Nov. 28 showed plenty of bears, downward pointing arrows and comparisons of the stock market to plunging winter temperatures.