Google has been surrounded by negativity over the past few months. Columnists, reporters, and analysts have been worrying about the web giant's prospects in an era of mobile, aggressive expansion from Facebook, and the company's underperforming stock. But analysts at Bernstein, a research firm, argue that the pessimists may not be considering the tremendous growth that remains in Google's core business, search.
There are four reasons pessimists suggest betting against Google: First, Apple may switch its default search provider from Google. Second, the growth of the mobile web means people are spending more time in apps and less time searching for things in web browsers. Third, the company faces challenges in search itself. And fourth, ongoing regulatory investigations, particularly in Europe, could damage Google's long-term prospects.
The first three are quickly rebutted by Bernstein: Even if Apple changes its default, it is likely that the majority of revenue-generating users (as opposed to the majority of users) will switch back to Google. Second, any negative effects from mobile users spending time in apps should already be factored into the numbers, given that the majority of Western users are already using smartphones. And search challenges, while real, have so far had negligible effects. Regulatory risk is an issue, but one that contains too many unknowns to properly debate at the moment.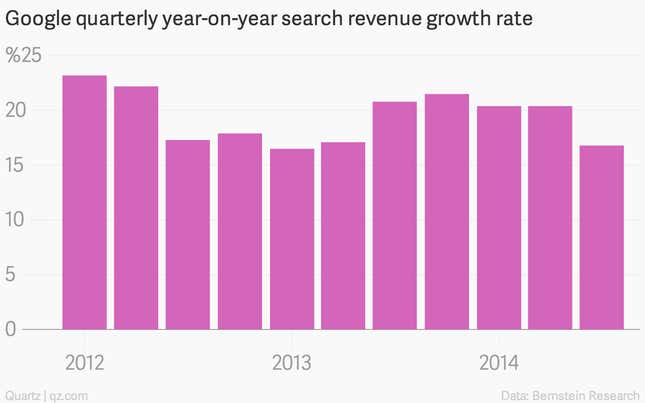 More important is what is going on in search. Bernstein argues that search is still not fully mature; it will improve both as a product for users and in terms of the inventory offered to advertisers. The former is visible. Google has been improving voice and image search, getting better at personalization, and is attempting to improving the experience for new mobile users with initiatives such as Android One. Improvements for advertisers have been slower in coming but Google is arguably learning from its customers.
It is becoming difficult for Google to sustain historically high rates of growth, but search advertising revenues will continue to outpace overall advertising growth "for the next several years," according to Bernstein, whose analysts expect that by 2020, search advertising revenues will still be growing around 7.5% year-on-year while global advertising spend will grow around 5%. From the note:
If we are right and it takes 5-6 years for search to mature globally (instead of 2 or 3 years), then Google's stock is incredibly inexpensive. If we are wrong and search global revenue growth matches global advertising growth in 2-3 years, then the stock is only fairly valued if Google's immense and burgeoning R&D budget delivers no significant returns.
In other words, despite the pessimism, investors picking up Google shares now may be getting a bargain—at least according to Bernstein.