Even remote followers of fashion will have noticed a proliferation of models and actresses wrapped in a certain Burberry poncho this autumn. In color-blocked burgundy, camel, and black, the wool and cashmere toppers are generally paired with slim jeans and dark sunglasses, and personalized with the wearer's initials: SJP for Sarah Jessica Parker, and so on.
Seems that poncho, which first appeared on the runway at Burberry Prorsum's fall 2014 women's show, helped protect the brand's bottom line last quarter—no small feat considering the company's weak growth in Asia, now the brand's largest market, amidst the protests in Hong Kong.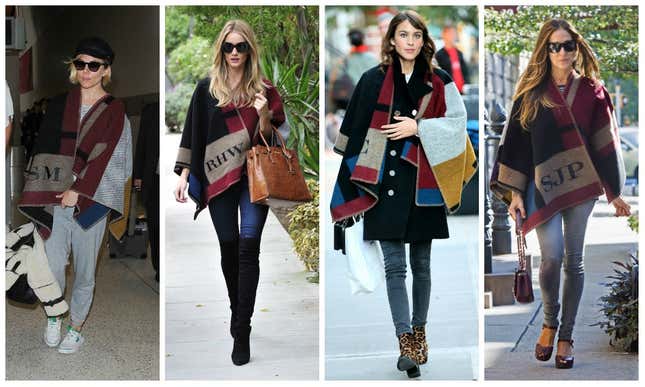 On a conference call with investors, Carol Fairweather, Burberry's chief financial officer, called the poncho "a standout success." Indeed it was plastered across the editorial pages of autumn fashion magazines, as well the backs of celebrities.
Many luxury consumers love something as recognizable from the runway as that poncho, but Fairweather offered another clue to its appeal: personalization. She said more than 70% of the ponchos Burberry sold on its website were monogrammed. It's not hard to see why. A monogram of one's initials can lend an air of exclusivity to an item, however ubiquitous its image may be.
Burberry's menswear—which accounted for 23% of the brand's revenue in its last fiscal year (pdf)—is getting in on the personalization game, too.
Many of the items that appeared in Burberry Prorsum's fall 2015 menswear show on Jan. 12 can be customized straight from the runway now.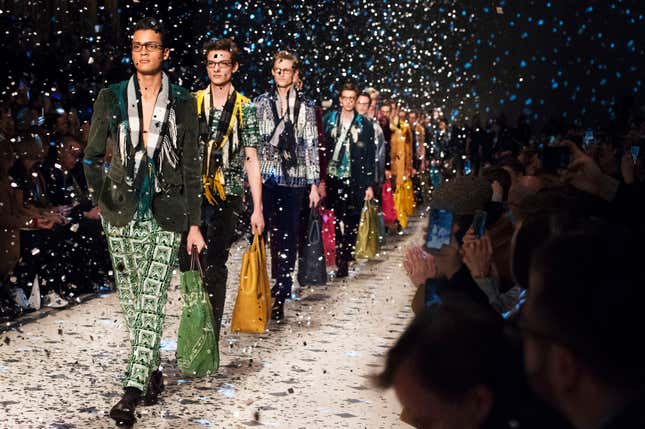 Through Jan. 26, Burberry is selling fall 2015 collection items including fuchsia suede document cases, paisley cotton jackets, and mustard-colored shearling coats with a personalized metal nameplates inside. The traditionalist can order a cashmere scarf embroidered with his initials.
And yes, the men's collection includes a poncho. But Burberry will not monogram it for you—yet.