Asia's gambling hot-spot Macau has been hard hit by China's crackdown on corruption, which has kept high rollers and their wallets off the betting tables. And Singapore, the region's other casino center, is feeling the same pain, despite a calculated attempt to set itself apart.
Like most things in Singapore, the city state's casino industry was carefully planned—especially its attempts to avoid overly relying on gambling revenue. Singapore casinos are part of what the industry calls "integrated resorts" which include conference centers and family attractions. Singapore introduced strict rules when it agreed to allow gambling in 2005, including banning most junket operators and limiting casino operators (there are only two), and requiring locals to pay a high entrance fee of up to US$75 if they want to gamble.
While casinos around the world entice customers by offering lavish, sometimes gimmicky decorations and services, Singapore has taken that to the extreme. At the Marina Bay Sands, for example, there's a 57-story high rooftop infinity pool, an art museum, and one of Asia's biggest expo and convention centers: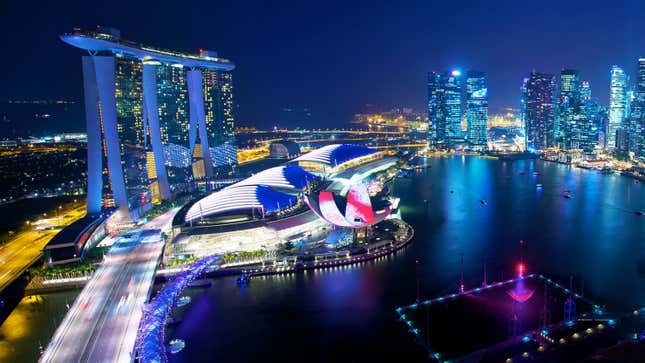 And the Resorts World Sentosa has a Universal Studios theme park, which had 3.6 million visitors in 2013, and what it calls the world's biggest oceanarium, Marine Life Park:

and what it calls the world's largest oceanarium, Marine Life Park:
But that hasn't been enough to ward off the same drop in revenue that has plagued Macau. Here's how things fared at the Las Vegas Sands' casinos in Macau versus its casino in Singapore in the first three quarters of the year (Macau's 3rd quarter revenues were flat):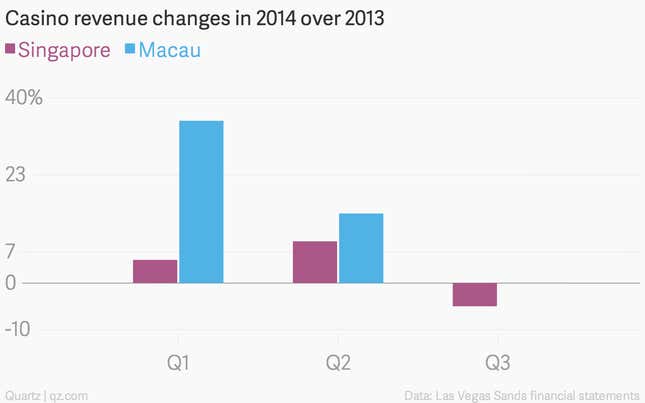 The drop comes in part because visitors to Singapore from mainland China plummeted in 2014, down 25.7% in the first 11 months of the year.
So even though Singapore's casinos handily beat Macau in generating a larger percentage of income from non-gambling activities, they still haven't been able to make up for the overall shortfall. Again, here's the breakdown of the Las Vegas Sands Corporation, which operates casinos in Macau, Singapore and Las Vegas: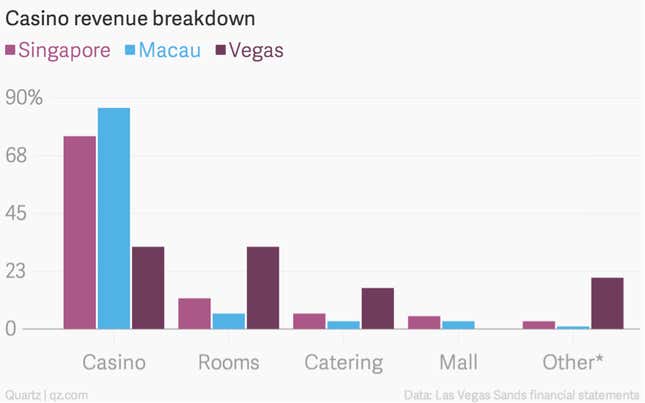 On the other side of the world, Las Vegas remains the king of diversifying revenue.  Only 15% of visitors (pdf pg. 2) said they came primarily to gamble, although 71% (pg. 5) said they did gamble while there.