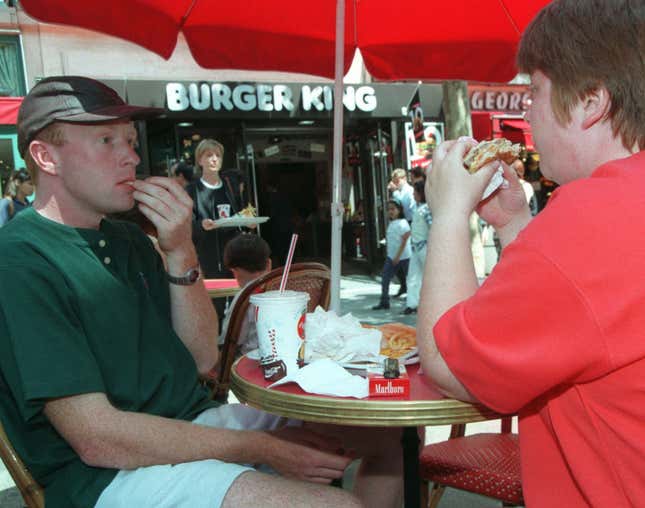 After being deposed 15 years ago, the King is back in France.
Burger King, in partnership with the Italian company Autogrill (which specializes in restaurants on the road, in train stations, and in airports), announced Nov. 29 that it would open up two France locations (link in French) in 2012 and 2013: one in the Marseille airport, and one on the A4 highway near the town of Reims in northern France. The partnership also plans to open Burger King stores in Switzerland and Poland.
Burger King closed the last of its 39 France locations in 1997, unable to compete with McDonald's (which at the time had 450 restaurants and now has over 1,200). Coincidentally, this regicide took place just three years after John Travolta's character in Pulp Fiction (1994) rhapsodized about the Paris McDonald's to Samuel L. Jackson, but said he did not know what the French called a Whopper, because "I didn't go into Burger King." Causal relationship? You decide:
The French responded to the news of Burger King's arrival by going nuts on the Twittersphere: on Thursday, #BurgerKing was trending as the second most popular hashtag in Twitter in France. The general sentiment is captured by this guy—even if you don't read French…

He's not really exaggerating. It is breaking news. It is a dream come true. Not one, but several Facebook pages have been devoted to summoning the Return of the King.
There were several false dawns: The most recent one was earlier in 2012, when Parisians were dashed to learn that rumors of a new Paris Burger King at the Saint-Lazare train station's underground mall were unfounded. French blog megalopolis.mag (in French) referred to the misunderstanding as "Burger King, urban legend with sauce 2.0″ and said "The return of Burger King is sort of the running joke of French social media."
So if there was a 2.0, then what was the 1.0, you ask? It was a 2010 rumor sparked by the ad below for the Eurostar train, which was mistaken by some to be an ad for Burger King France. The ad boasts that Burger King is just "two steps from here"—those steps being France's train station the Gare du Nord and London's train station St. Pancras. "Burger King in only 2 hours and 15 minutes," the ad boasts.
For some reason, the French hoped against hope that the fact that the ad was running in France contained a hidden message.
But all is now forgiven. Burger King is really happening this time. Cue the Marseillaise.
One hopes Burger King can do better in France the second time around. One of the secrets behind the success of McDonald's in France is that it adapted to the finicky local market, by offering things like Béarnaise sauce and French cheese as burger toppings, as alternatives to American cheese slices.
To get some insight into whether Burger King had the wherewithal to adapt to local markets, Quartz checked out the Burger King web site list of international locations. Here's an ad for the kids' menu in Germany, the King Box. It comes with apple wedges, and that bottle of red liquid is apple-strawberry juice. For some reason, an inexplicable number of German ads and signs feature things with faces that should not have faces, like fruits and vegetables.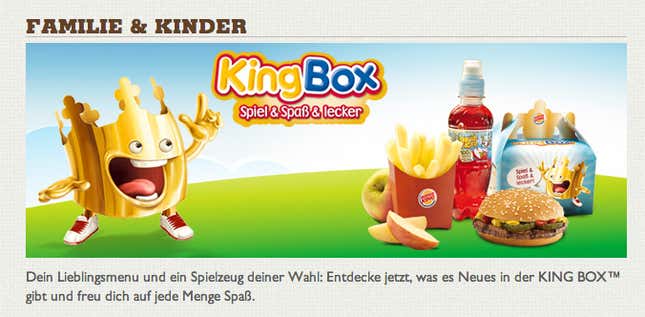 .
Here's what's offered on the Kids Menü in Turkey. "Kids Tenders" seems like something that the witch in Hansel and Gretel would eat.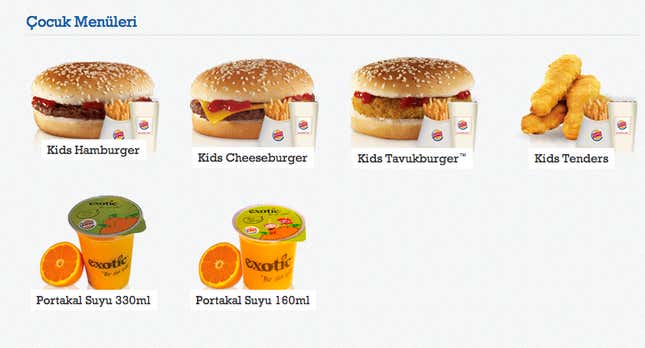 The kids' meal menu in Spain is called Diverking (a play on words meaning, roughly, "fun King"), and offers a salad, "apple fries," and mineral water, which don't seem like things that most American children would clamor for in the back of the car as they're coming upon the drive-through window.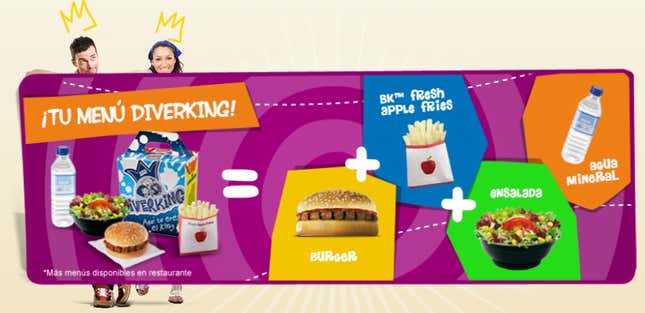 The Korean Burger King site is a little strange. Whilst others feature actual food in a semi-food-porn way, the Korean site looks like something you'd see at the stock exchange, with a press release section and special offers flashing at the rate of approximately one per second, faster than any normal person can read. The menu offers something called a "bulgogi Whopper," though it looks suspiciously like all the other regular burgers.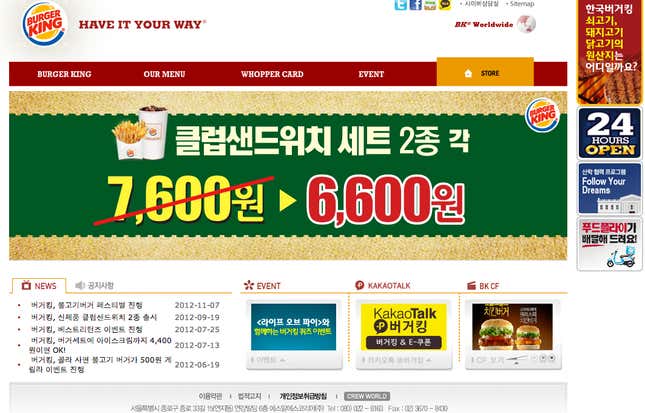 The Russian site leads with two special winter burgers: the Morozz burger, or frost-burger, which comes with fried onions, and the snekurochka, or "snow-chicken", both of them folkloric plays on words. (Snegurochka, the "Snow Maiden", is a Russian fairy-tale character sometimes depicted as the granddaughter of Ded Moroz, Russia's version of Father Christmas.)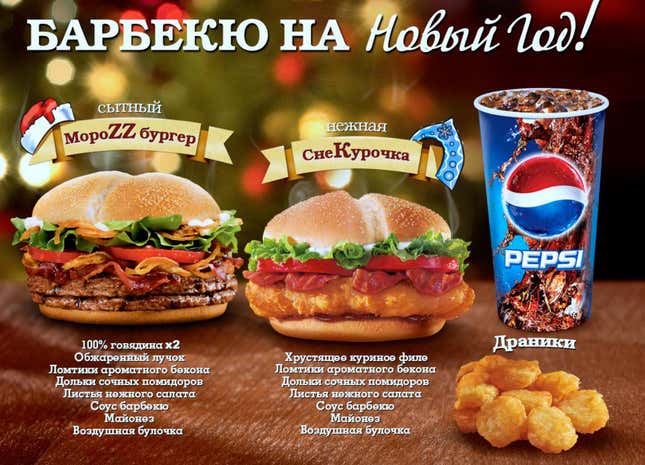 Gideon Lichfield contributed to this piece.