There are two education topics that US president Barack Obama will definitely talk about during his State of the Union speech—increasing online privacy measures for schoolchildren, and providing free community college for all Americans.
Obama may also touch upon universal preschool and the thorny issue of fixing the law known as No Child Left Behind, if education secretary Arne Duncan's speech last week and Obama's recently released tax proposals are indications of what's to come.
Here's what to listen for during Obama's speech:
Keeping children's data private
This is probably the easiest sell, as protecting children's privacy isn't particularly controversial. US schools are increasingly implementing online learning tools in the classroom, and outsourcing databases that keep track of everything from attendance to free lunch eligibility. Right now, it's mostly schools' or school districts' responsibility to make sure that students' data is being kept private, and not used for advertising or other uses in the future.
Obama wants to adopt federal measures based on a California law that puts that onus on the education technology companies, rather than on the schools.  The Student Digital Privacy Act would require any information that a company collects about students to be used only for educational purposes.
A lot of big companies have already signed onto these guidelines without a law in place. The devil will come in the details, says Kevin Welner, director of the National Education Policy Center: for example, you wouldn't be able to sell out the address of a single child, but "Can you sell information about the characteristics of the children living in a particular zip code?"
In the meantime, here's a guide to keeping your kid's data private.
Free community college
Long story short: This is probably not going to happen. Not right now, with a Republican Congress, anyway.
The publicity that Obama is giving this initiative—announcing it ahead of the State of the Union—is probably more about laying the groundwork for a future Democratic candidate to build upon than making it happen in what's left of his term, Sara Goldrick-Rab, professor of education policy studies at the University of Wisconsin, tells Quartz.
Still, Obama did offer a tax proposal to pay for the program, which would cost about $60 billion over the next 10 years. He wants to simplify the tax credits that students can apply for so that they can better take advantage of the money they're eligible for, and use increased taxes from the richest Americans to help fund the community college programs.
Free community college for Americans could certainly help reduce the inequality gap in the US, but it's also worth noting that Americans who earn an associate's degree still make less than the median weekly wage.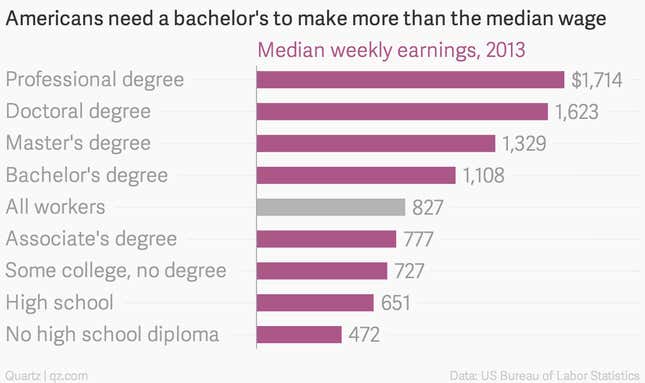 Preschool for all, kind of
Obama has pushed for universal preschool for a while as the way to curb inequality early, and talked about it briefly during a speech at Northwestern in October:
If we make high-quality preschool available to every child, not only will we give our kids a safe place to learn and grow while their parents go to work; we'll give them the start that they need to succeed in school, and earn higher wages, and form more stable families of their own.  In fact, today, I'm setting a new goal:  By the end of this decade, let's enroll 6 million children in high-quality preschool.  That is an achievable goal that we know will make our workforce stronger.
Duncan brought up the topic more recently, calling on Congress to fold preschool funding into a new education law. And Obama touched on the topic in his tax proposal.
With US preschool costing $4,460 to $13,158 per year, it's no surprise that preschool attendance correlates closely with income.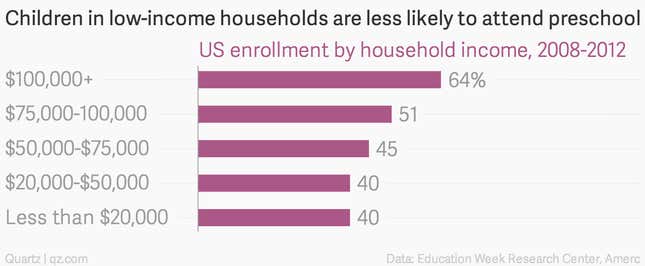 Obama's tax proposals do not actually provide a plan for preschool. Instead, they would consolidate a few different tax incentives into one, and thus increase the maximum Child and Dependent Care Tax Credit to $3,000 for each child younger than 5, for families who make up to $120,000. (Currently, the tax credit averages $550.) That means families would get more money that they could spend on preschool if they'd like to, but they could also spend it on other childcare expenses, Welner says.
Leaving behind "No Child Left Behind"
This is the messiest of the education topics that Obama could talk about—the George W. Bush-era Elementary and Secondary Education Act, which Congress is currently working to reform and reauthorize.
The administration is at odds with Republican Congress over a few issues—most notably how to proceed with testing. Republican senator Lamar Alexander's reauthorization plan calls for states to determine how to test students and proficiency, while Duncan called for national standards based on standardized tests to remain in place.
But now, parents and schools are calling for less testing, saying it has gotten out of control. Obama may dive into this debate during his speech, or he could just leave this one to Congress and Duncan to duke out, and comment once a more solidified draft of the bill has come through.