2014 was a difficult year for Twitter. Disappointing user growth, instability among the executive team and above all else, a sinking stock price, all made its triumphant IPO in late 2013 seem like a distant memory. (Our friends at The Atlantic even wrote a eulogy for the service).
But in 2015, could a decisive turning point be upon us? That's the view of Deutsche Bank analyst Ross Sandler, who has had some pretty fascinating views on the company before. In a note put out this morning, he implies Twitter could soon experience a Facebook-style resurgence.
Similar to the 2012/13 bear raid on Facebook where the street was over-obsessed with 'declining engagement' only to see shares triple in a single quarter, we think the debate around Twitter's MAU [monthly active user] adds should eventually move to the background in favor of new product initiatives the company is working on.
Here is how Twitter and Facebook's post IPO performance on the stockmarket compares. Despite taking very different paths, their returns were quite similar at this point of their listed existence.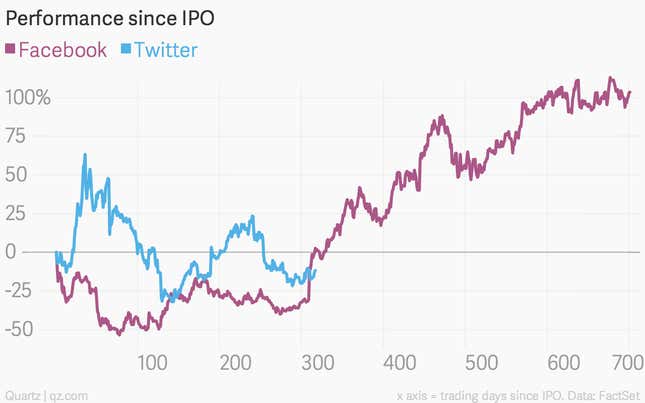 Facebook is so dominant now it's easy to forget that it, too, suffered a very difficult first year or so after its IPO (and one that was much shakier than Twitter's).  Back then, people were worried about its ability to transition from being primarily desktop focused to a more mobile service. Those worries now seem fairly laughable.
Twitter CEO Dick Costolo, (who is under a bit of pressure) would no doubt love for Twitter to experience the kind of upswing Facebook experienced around about this time in its post-IPO life. But that upswing only came because Facebook executed its objectives brilliantly, and better than almost anyone expected.
Unlike Facebook, the challenge for Twitter has never been about mobile. It has been about user growth and how to measure the true size of the service. New product initiatives, particularly in video, could get people excited again.
Twitter reports quarterly earnings on February 5. Over to you, Dick.