Apple's results yesterday were a blockbuster by any measure—the biggest quarterly profit in corporate history, a blatant disregard for the law of large numbers—and yet nowhere were they more impressive than in China.
The mainland went for the super-sized iPhone 6 and 6 Plus in a big way, catapulting Apple to top spot in the world's largest smartphone market, based on units shipped in the fourth quarter, according to research firm Canalys. Less than a year ago, it languished in sixth place, behind Huawei, Lenovo, Samsung, Xiaomi, and Yulong.
Canalys notes that the iPhone's average selling price (ASP) is "nearly double" what its nearest competitors charge in China. The gap may be even bigger than that: Apple's ASP rose by $50, to $681, in the fourth quarter—as recently as June, Huawei's ASP was $155.30 and Xiaomi's was $159.60.
The combination of high unit shipments and premium pricing meant that Apple's sales in China doubled in the past year.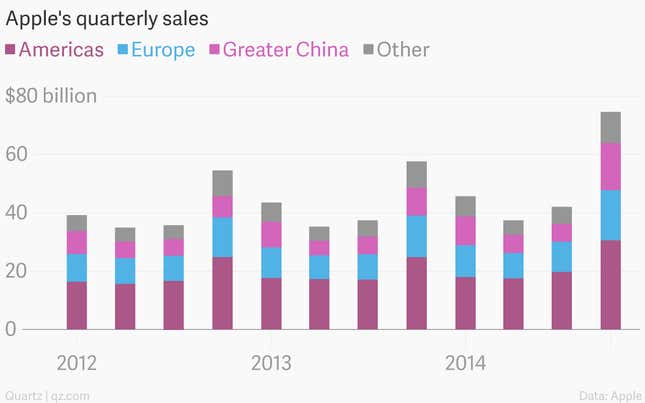 Apple is turning the prevailing wisdom about China's smartphone market on its head. It turns out that there are more than enough Chinese consumers who are either hungry enough for the high-status Apple brand, sincerely enamored of the company's technology, or both, to pay premium prices.
Despite predictions that Apple might sell more iPhones in China than in the US last quarter, that didn't happen—but it only seems a matter of time. How did it get here?
Giving consumers what they want
Apple long resisted larger iPhones that couldn't easily be gripped in the hand or spanned by an outstretched thumb. But Apple finally gave in—and the bet paid off, big time. Chinese consumers, who have long preferred bigger phones, flocked to the new iPhones, with many choosing them over rival offerings from Samsung and Xiaomi.
Super-premium retail
Apple's chic retail stores have been crucial in creating the brand's high-end aura. The company is opening five new stores on the mainland in the run-up to the Chinese New Year's prime shopping season next month; it plans to double its retail footprint, to 40 stores, within the next two years. The not-so-secret weapon here is Apple retail chief Angela Ahrendts, who has a wealth of China retail experience from her former job running Burberry.
Ahrendts gave a rare interview last week to China's state-run Xinhua Daily, saying that her biggest challenge is "keeping up with demand while providing the same global customer service standards." To that end, she is reportedly offering to move select US Apple store staff to China.
A China Mobile deal
It's a mystery why it took so long for Apple to sign up the biggest mobile carrier in China, and thus the world, but now that it's finally inked a deal with China Mobile, the benefits are obvious. Canalys credited the deal, along with the carrier's rollout of high-speed LTE mobile data connections, as a primary driver behind Apple's sales growth.
Keeping Beijing happy
Like all foreign businesses in China, Apple can only operate with the acquiescence of the ruling Chinese Communist Party. And the relationship has not always been a happy one: state-owned media have railed against allegedly anti-consumer business practices, and government regulators have raised concerns that Apple may be gathering sensitive information about its Chinese users—or, even worse, sharing information with US intelligence agencies.
Apple seems to be taking steps to placate suspicious regulators, according to Chinese media reports, by agreeing to allow "security checks" that will give Chinese officials access to its networks and hardware. (Apple has declined to comment on the matter.) Such a move could potentially give China inside knowledge that would enable its own snooping and surveillance at home and abroad—but with Apple's many billions rolling in, that may just be the cost of doing business in China.
Additional reporting by Jason Karaian