Lego has unveiled its latest pop culture re-creation—the Helicarrier from Marvel's The Avengers. It's 31 inches long, comprised of 2,996 pieces, and will go on sale for $349.99 in March, as first reported by The Wall Street Journal (paywall).
For those yet to see The Avengers or Captain America: The Winter Soldier, the Helicarrier is essentially an enormous aircraft carrier that can also fly (video). The Lego set, unfortunately, doesn't fly—but that's what pretending is for.
Here's a Lego designer showing you the new helicarrier up close:
The set also comes with multiple aircrafts and vehicles, five figures (Hawkeye, Maria Hill, Captain America, Nick Fury, and Black Widow), and 12 "microfigures."
The idea for the Helicarrier hatched from Lego's Ideas site, a Kickstarter-esque system in which people can submit their own original toy ideas for Lego to review. If Lego decides to run with the idea, the creator receives a percentage of the toy's sales. Lego did not respond to calls for comment.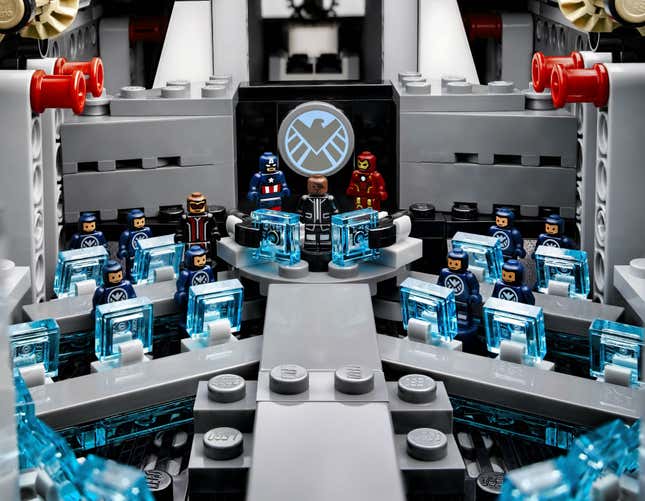 As expensive and intricate as the Helicarrier set is, it's neither the priciest nor the most intricate of Lego sets currently available for purchase. The Lego Death Star from Star Wars is $399.99 (though it's out of stock until Feb. 22). And Lego's London Tower Bridge set is made up of a whopping 4,295 pieces.
Another huge and complex set, though perhaps aimed at a different variety of Lego enthusiast: the Sydney Opera House, which is $20 less than the Marvel Helicarrier but made up of roughly the same number of pieces.