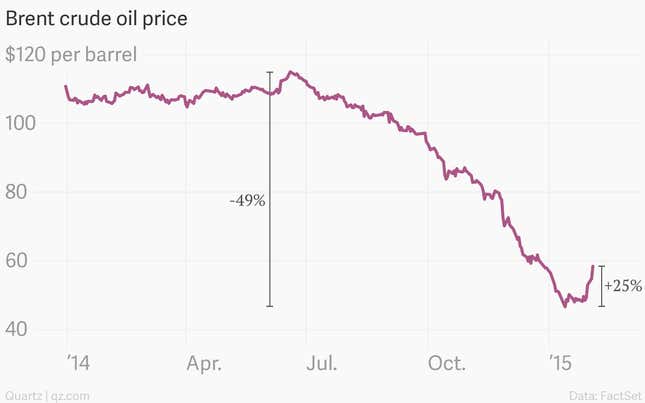 It doesn't feel like a bull market. But by the accepted rule of thumb, the recent rise in the price of a barrel of Brent crude oil is just that.
Moves of at least 20% in either direction commonly define things as being in bull- or bear-market territory. At the time of writing, the price of Brent, the international oil benchmark, is up 25% from its low point last year, thanks to a 7% jump today. 
But if you're breaking out the champagne, drink responsibly. From its 2014 high, the price of the international oil benchmark is still down by some 50%.
Big oil companies have recently cut investment plans, shelved share buybacks, and idled rigs to conserve cash in response to seven months of falling prices. These subdued spending plans seem to have sparked the euphoria among traders. But just as few expected the cost of oil to drop so far so fast, it would be crazy to think this upturn marks the beginning of a steady march back up above $100 a barrel. Wouldn't it?