American Airlines, the world's largest airline now that it's merged with US Airways, is bringing out special amenity packs on its flights to honor the legacies of the several smaller airlines that helped the massive company become what it is today.
The retro kits, available through January 2016, will be branded with the old-school colors and logos of AirCal, Allegheny, America West, Piedmont, PSA, Reno Air, and Trans World Airlines—all companies that have either been bought by or merged with American Airlines or US Airways over the years. (The American and US Airways brands are represented in the selection, too.)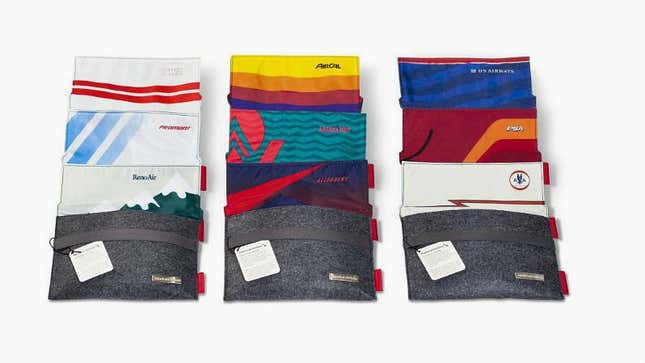 For business class flyers on international flights, the kits will come with a pair of socks, an eye mask, a toothbrush and toothpaste, noise-canceling headphone covers, and various other trinkets and cosmetic products. International first class flyers will receive all the same amenities (plus a few more, like pajamas and slippers), but in different, larger packs.
First class fliers on US transcontinental flights will receive a pack, too. But it seems business class flyers on those flights will be out of luck, unless they're traveling between New York and Los Angeles or San Francisco, or between Miami and Los Angeles.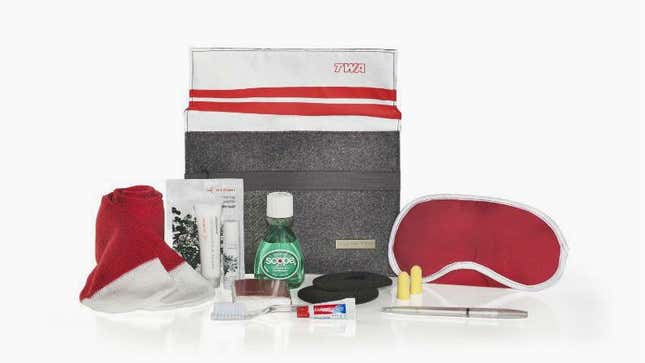 This is all part of AA's marketing effort to refresh its brand since merging with US Airways. The company has invested $2 billion into its "Going for Great" campaign, which promises better customer perks like Wi-Fi coverage on international flights, more power outlets, and an updated menu on flights to and from Asia.
AA's campaign is itself part of an industry-wide trend to appeal to younger fliers, many of whom don't know a world in which things like in-flight entertainment don't exist. Southwest recently launched a line of handbags made out of old leather seat cushions. JetBlue announced it would start serving flyers cricket protein bars and mushroom tea, among other quirky snacks. Virgin America flights now allow you to send a drink or a text to another passenger via your seat-back screen.
In the case of these retro kits, many millennials (including this reporter) do not remember these legacy airlines, let alone their logos. It's hard to feel nostalgic for airlines you never experienced in the first place. That said, anyone who's at least seen The Aviator should be familiar with TWA.
Update: A previous version of this story said that the kits contained noise-canceling headphones. They actually only contain covers for headphones, not the headphones themselves. This item has been corrected.