Back in 2012, a breakup of the euro zone seemed a strong possibility. Sentix, a German research group, started polling investors in June of that year, and for months they figured that the currency blowing up was more likely than not.
Subsequent bailouts, rescues, and burden-sharing among euro members pushed Sentix's breakup odds lower, at least for a while. But putting a probability on a euro breakup is popular again now, after Greece's new government, led by the leftwing Syriza party, set up a showdown with creditors over the conditions of the country's bailout agreement. The last poll by Sentix, conducted just ahead of the Greek election last month, put the odds of a breakup at around 24%: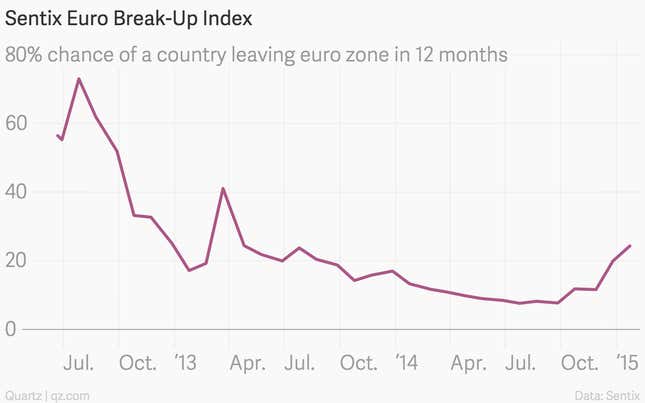 In the meantime, Greek finance minister Yanis Varoufakis (pictured above) has warned of a continent-wide calamity if Greece is cut loose from financial aid, and from the euro zone. For their part, German officials have refused publicly to consider any relaxation of the conditions attached to Greek loans—if the new Greek government won't play by the existing rules, "then that's it," German finance chief Wolfgang Schäuble said recently. Greece's current bailout program expires at the end of the month.
Varoufakis, Schäuble, and other euro zone finance ministers are meeting today in Brussels to seek some common ground, with few expecting any sort of definitive deal. That has led analysts, investors, and commentators to revise their probabilities of a euro breakup. A selection of the odds on offer:
Former Fed chairman Alan Greenspan said recently that it's "just a matter of time before everyone recognizes that parting is the best strategy," which sounds like he thinks the probability of a breakup is close to 100%.
Think tank Open Europe reckons that there's now a 40% chance of Greece leaving the euro zone, up from 25% during the dark days of 2012.
A poll of economists by Reuters put the odds of a so-called "Grexit" at 25%.
Irish bookmaker Paddy Power is offering 25% odds on a Greek exit this year, or roughly the same as the chance of Jeb Bush becoming US president next year.
Wolfango Piccoli, managing director at research group Teneo Intelligence, tells Quartz that he thinks the probability of a Grexit has doubled—from 10% to 20%. "Syriza has not won a mandate to take the country out the euro zone," he says. "Nobody has articulated a credible alternative plan to the euro."