For more than a decade now, menswear has been on a serious diet. The silhouette has slimmed and shrunken, to sometimes parodic proportions. Blame Hedi Slimane or Raf Simons—or really, both—but there it's been, everywhere you look: skinny suits, skinny jeans, and even skinny sweatpants.
In the past few years, however, the predominant shape in menswear has finally begun to fill out again. At New York Fashion Week, this roomier figure has reached a critical mass. The inspirations behind the new shape varied: Public School cited the '90s club scene in New York, while Robert Geller looked back further to a pair of fencing brothers in the '20s. The result all around, however, was a little more breathing room in the clothes.
With pants, a bit more fabric could be found in the thighs and the rise. Many pairs tapered toward the ankle, sometimes sharply as in Robert Geller's take, or more subtly as in Duckie Brown's. And pleats were everywhere.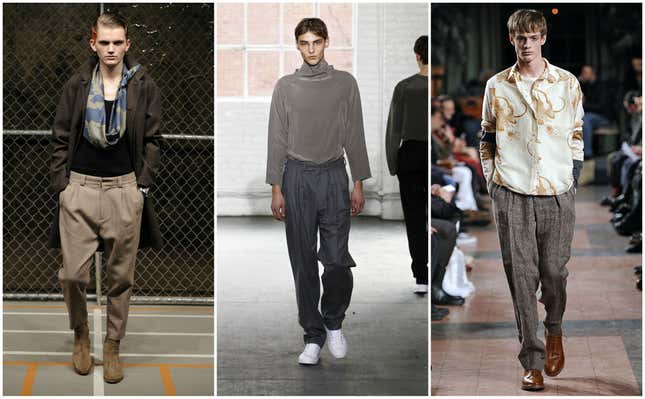 Waistlines inched upwards as well, often sitting on the actual waist rather than on the hips. General Idea used this high-waisted proposition prominently in its Ivy-League inspired collection.
Outerwear similarly grew more generous and leisurely, with noticeably dropped shoulders or raglan sleeves.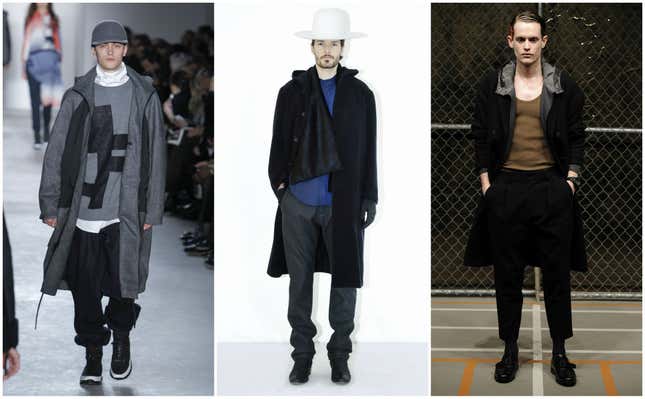 Korean brand Kye, an up-and-comer at New York Fashion Week, showed one of the most dramatic dropped shoulders of all, with the seam hitting just above the elbow.
The same trend could be seen in knitwear. Among the key items in Kanye West's first collection for Adidas was an oversized, destroyed knit pullover.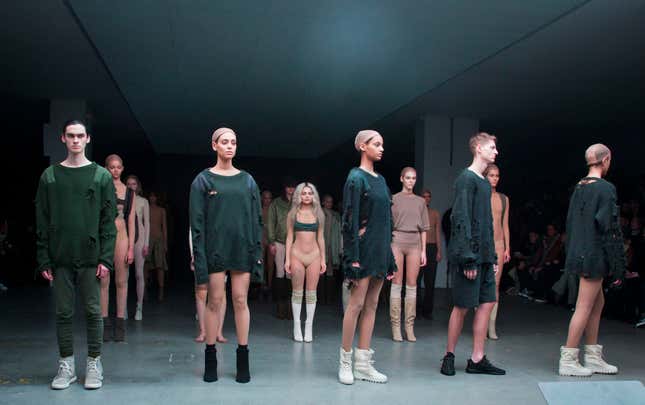 Public School contributed this roomy sweater.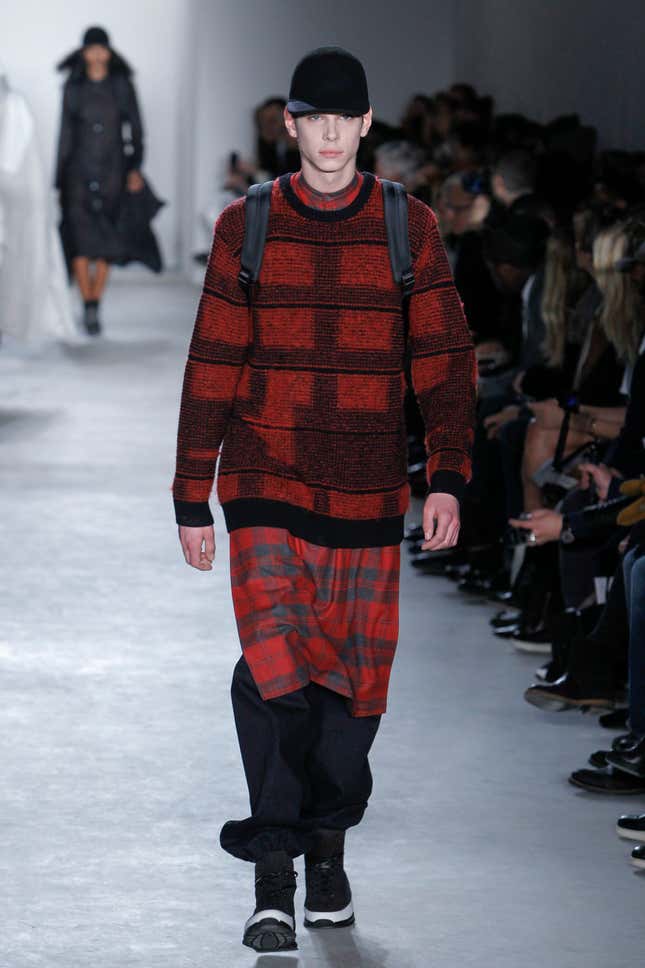 If the runway hasn't convinced you that the shape of men's clothing is changing, consider that brands with more mainstream appeal are undergoing the same transformation. This past autumn, Todd Snyder introduced a suit collection at Nordstrom that featured a slightly looser fit. Snyder, if you're not familiar with the name, oversaw the launch of J. Crew's slim-cut, wildly popular Ludlow Suit back in 2008. In 2014, J.Crew followed up with a new fuller-cut suit, the Crosby.
That's not to say skinny is disappearing entirely. Tim Coppens, one of the bright lights of New York menswear, is one of many designers who still works with trim looks; slim suits continue to sell well (paywall); and leg-hugging sweatpants such as those on display at Kanye West's presentation aren't going away just yet. It's a new mix of proportions that's coming into play. All skinny no longer feels fresh, and change is in the air.