Over the past few years, frothy house prices have freaked out Londoners from Shepherd's Bush to Stratford. Many potential buyers have hoped that signs of a slowdown that emerged in the summer would continue, and so it has proved. But it's not yet time to celebrate.
The slowdown—meaning prices are still increasing, but less fast than before—offers a very small reprieve to the capital's exhausted house hunters. The price of the average London home rose by around 13% in December, according to the latest data from the Office for National Statistics. That's down from a 20%-per-year pace not long ago: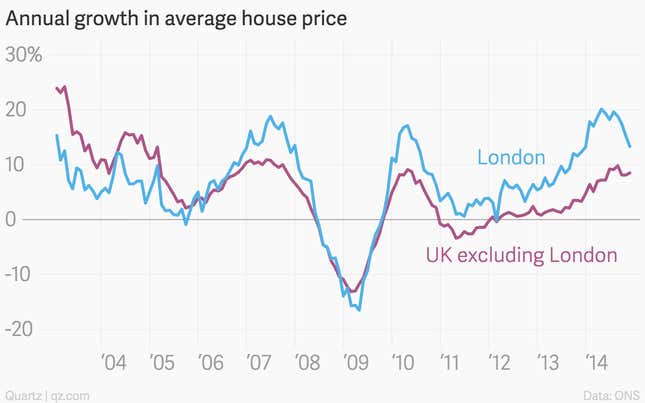 Looking ahead, many market watchers reckon that London property prices could actually fall this year—in part because they have risen so far, so fast in the recent past. Still, a 3% decline in the average London house price in 2015, as predicted by the Centre for Economics and Business Research, will not suddenly make that Victorian in Camden Town much more affordable.
Put simply, the supply of new houses is not keeping up with demand, which will keep prices high. At the same time, weak wage growth has made it harder for people to keep up with modest price increases, much less the breakneck growth of London house prices in recent years.
As a ratio to the average homebuyer's income, both prices and the size of mortgages are hovering back where they were during the bubbliest point of the pre-crisis period: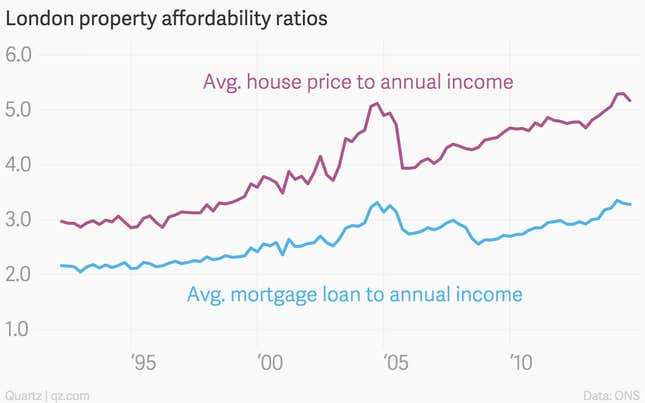 Many frustrated thirtysomethings are giving up on London. Last year, some 60,000 left London, reports Sky News—the biggest exodus ever of this age group. But now it appears that the non-London UK market is catching up with the capital, so that gambit may not provide much relief either.