Henri Winand runs a fuel-cell company. Fuel cells run on hydrogen to produce energy. So why has Intelligent Energy, Winand's firm, just agreed a deal to manage some 16,000 diesel-powered mobile network towers in India?
One reason is that the deal will bring in an estimated £1 billion ($1.5 billion) in revenue for the company over the next decade. For a business that posted a £48-million loss on revenue of £13.6 million for the last full year, the income certainly helps. But the larger reason is that Winand plans, over time, to replace the diesel generators that power rural mobile towers in India with fuel cells. Winand can become his own best customer.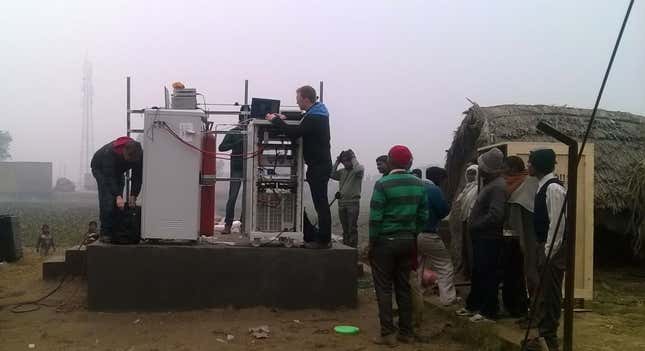 Winand's plan might just work. Intelligent Energy has been in India since 2009, and already manages 10,000 of the country's mobile towers, many of which are off-grid for eight hours a day. As the diesel generators that keep them running the rest of the time begin to mature, Winand has started replacing the majority of them with fuel cells. Speaking with Quartz before news of the new deal, Winand characterized the tower agreement with gleeful confidence: "We have eight-year visibility," he said, referring to the minimum length of the contract. "It's like a pension fund."
But running cell towers in India is not why Intelligent Energy was set up. Like other fuel cell firms—all of which are uniformly loss-making—Intelligent Energy was created to make money from fuel-cell power, which remains too expensive, too niche, and lacks a supply infrastructure. The cell towers are part of a bigger plan, Winand explains: the more of his own technology he buys, he more he can drive prices down through economies of scale. Winand hopes that he can make his business sustainable.
Some 150,000 of India's 400,000 cell towers are estimated to be off grid, or have unreliable energy supply, according to a book published by World Bank and the International Bank for Reconstruction and Development. Electricity accounts for 40% of the cost of running a tower in India, compared to just 12% in Europe.
Intelligent Energy isn't the only company trying to make a business out of India's underperforming rural cell towers. Omnigrid Micropower Company uses sun, wind, or biogas energy to supply electricity to telecom towers; it uses the excess energy to light up nearby homes. Each mini-plant powers some 3,000 homes.
Nor are Indian mobile towers the only ones being fitted with electricity-generating capabilities: The Eiffel Tower is getting into the act too.