This week, FIFA, soccer's world governing body, confirmed it would proceed with a plan to host the 2022 soccer World Cup during the northern hemisphere winter. It is a bizarre plan, for many reasons, and one that has already had a business impact.
World Cups traditionally take place in summer months, but the 2022 edition is controversially being hosted by Qatar, where temperatures reach absurd levels at that time of year. And as a result, FIFAs curious decision to quietly award US broadcast rights for the 2026 tournament to Rupert Murdoch's Fox Sports became much clearer.
Fox, which paid $425 million to outbid ESPN for the rights to the 2018 and 2022 World Cups in the US, had been strongly against a winter tournament, because it would clash with the American football season, already a period of strong ratings. (European soccer clubs are also opposed to the winter plan as it will disrupt their seasons).
There was no open tender for the 2026 rights meaning ESPN, the giant of sports broadcasting in the US that has aired the last six World Cups in the country, had no opportunity to propose a counter-offer. In an astonishing snub, it found out, like everyone else, through the media.
"Considering the high quality presentation that ESPN demonstrated and the exposure we brought to FIFA events through all our platforms, it was surprising and disappointing to learn of this when the press release was issued," it said in a statement sent to Quartz.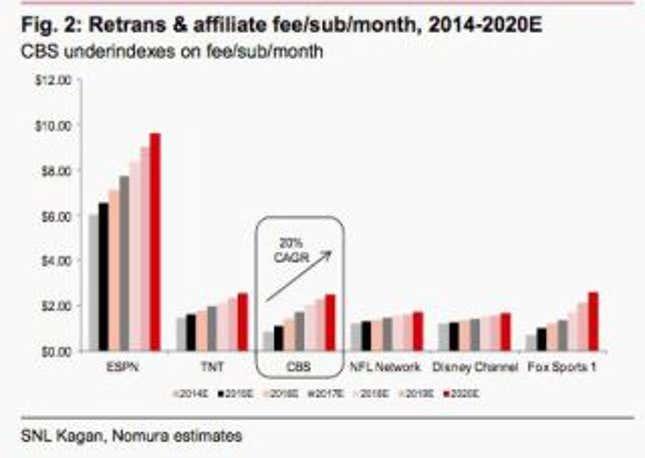 Later, FIFA general secretary Jérôme Valcke seemed to admit it handed Fox the rights to stave off legal action.
"We have done what we had to do in order to protect FIFA and the organization of the World Cup," he said, according to the Guardian.
Fox declined to comment when asked by Quartz whether it would have proceeded with legal action. But most observers seem to think it would have. For FIFA, that would not have been pretty, given the allegations of of corruption that have swirled around it lately.
As the New York Times explained:
[A] potential court fight raised the delicious possibility of deposing Sepp Blatter, FIFA's president, and other executives, on American turf. FIFA executives would prefer to keep their organizational secrets out of the American court system.
Fox said in an emailed statement that it was "truly honored" and it was a "privilege to be entrusted" with the 2026 rights in the US. And for good reason, because it may end up being quite lucrative. According to the Times, it only had to pay the equivalent of a 10% increase to secure the extension, an extraordinarily low amount given the hyperinflation in sports broadcast deals, particularly soccer.
Fox, of course, has been trying to develop its 24 hour cable channel, Fox Sports 1, into a genuine competitor to ESPN. It still has a long way to go on that front. But having three editions of the world's biggest sporting event in succession—even it it only rolls around every four years—can hardly hurt in building a franchise. That will be especially true if the 2026 tournament ends up being hosted in North America, a favorable timezone for US audiences. Canada and Mexico are both confirmed bidders but Blatter himself has said the US could be a strong candidate. Now that would mean a ratings bonanza.