Every Independence Day, Ghanaians of a certain age make the same speech. My grandfather's is the finest, tinged by a pride he's felt since that day on March 6th, 1957 when the British Gold Coast became the Republic of Ghana and he ran alongside President Kwame Nkrumah's car in a crowd of tens of thousands. "We have everything," he says every year. "Gold, bauxite, diamonds."
The high point of this speech is always the Akosombo Dam. In 1965, it turned part of the Volta River into one of the largest man-made lakes in the world. The dam powered what was then Africa's biggest aluminum smelter, huge swathes of Ghana, and parts of Togo and Benin.
On this Friday, March 6, Ghana's 58th Independence Day, the country is well into its worst energy crisis in decades. Water levels at the dam are at critical lows, and there are problems with its thermal plants, leading to 24-hour blackouts.
Dumsor (literally "off-on" in the Akan language) has crippled factories and shops. Most refrigerators have become useless, so people have started buying groceries daily. The torpor that comes from several hot, sleepless nights staring bitterly at an unmoving fan or a dead air conditioner is now known as dumsor fever.
There's an entire class of young entrepreneurs in Accra–bespoke shoe designers, fashion companies–who schedule meetings in the hotel lobbies and cafes with the most reliable generators. At the last count, there were four dumsor apps in the Google Play store made by Ghanaian startups.
Ghana, West Africa's second-biggest economy after Nigeria, was briefly one of the fastest-growing in the world. In 2011, when gold and oil prices hit record highs, Ghana grew by 15%. This was right after two decades of stable, peaceful parliamentary democracy. The number of people living in extreme poverty plunged and the middle class started growing. On paper, everything looked rosy.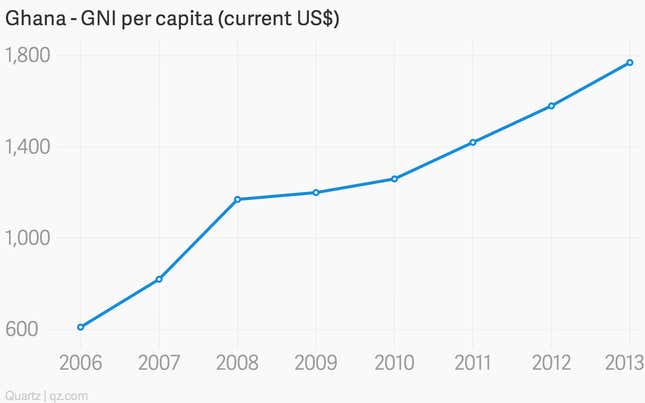 But by the end of last year, growth had slowed to 4%, double-digit inflation had turned grocery shopping into a nightmare and Ghana's budget deficit was 9.5% of gross domestic product. Foreign donors, worried about the government's out-of-control spending, held back around $200 million in funding. More gaping holes started to appear in the budget when gold and oil prices plunged.
So now, there isn't enough foreign cash coming into Ghana to sustain the currency. The Ghanaian cedi was briefly the worst-performing currency in the world. Now it's the worst-performing currency in Africa.
The real problem is that unprocessed raw materials are pretty much the only way the country brings in foreign currency, says Yaw Adu-Koranteng, a research analyst at NDK Asset Management in the capital, Accra. "It will have to add value to get more out of its exports, rather than relying on IMF bailouts and central bank fixes."
President John Mahama's administration has opted for a bailout: a loan of almost $1 billion from the International Monetary Fund. The three-year deal announced in February will include unpopular austerity measures. There still won't be any new government jobs, public spending is on hold, and what's left of fuel subsidies will be replaced by a 17% gasoline tax. The first big payout is expected in April.
Another Election
But there's a presidential election coming in 2016 so many don't expect Ghana's IMF imposed austerity to actually hold. The last election involved an orgy of spending that drove up the deficit. The ruling National Democratic Congress government began the 2012 campaign season with a deficit target of 6.7%. By the time they won (with a majority so small it was contested at the Supreme Court of Ghana) the deficit had ballooned to 12%.
Many, including analysts at ratings agency Fitch, don't think this election will be different.
"The Fund [IMF] then projects that the deficit will narrow to 3.5% of GDP by 2017. We think this is too optimistic given the deepening electricity crisis, which could drag growth lower, and the likely pressure that the upcoming elections will exert on spending."
This isn't the first time Ghana has suffered power outages that slowed growth. The last crisis was in 2006 and 2007, when the opposition New Patriotic Party and its leader John Kufuor were in power. He bought a flotilla of temporary offshore power plants to end the power cuts. People thought they were a pathetic stopgap even then, and many of them have disappeared, but this hasn't stopped the NPP holding power cut protests that are actually thinly disguised election rallies.
"This is a crisis that could have been averted with better planning," says Kissy Agyeman-Togobo, a partner at Accra-based consultancy firm Songhai Advisory LLP, and voters know this. But the current administration could still recover from the worst of the financial crisis. "It would be unprecedented for an incumbent to only serve one term in Ghana's short history of multi-party democracy," says Agyeman-Togobo.
The president has appointed a new energy minister, who swears he will resign if there are still power cuts next year, and announced plans to buy a new set of offshore power plants. All of which has given the Akosombo Dam (however useless its current state), near mythical status.