Afraid of being left in the dust, smartwatch companies are hoping to outshine the Apple Watch by making some news of their own. Distracting anyone's attention from the Apple juggernaut is pretty much impossible, but rivals have certainly upped their game.
Pebble set yet another record for a crowdfunding campaign, and at this week's Mobile World Congress, LG and Huawei both showed off new smartwatches running on Android. (Samsung, which has pushed six smartwatches into market, said it was taking a break to hone its products.)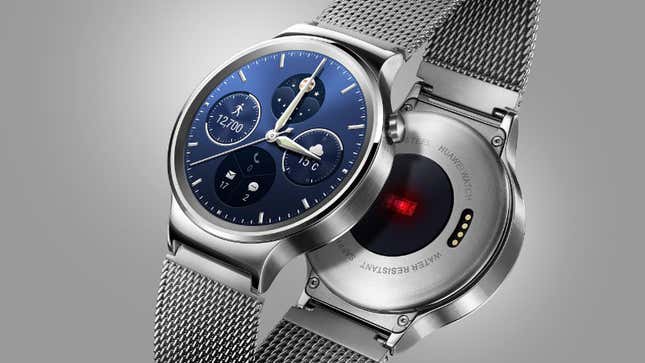 The upcoming Huawei Watch from the Chinese company better know for enterprise technology can display notifications on the wrist and track wearers' activity and health with its heart rate, motion, and barometer sensors. But what makes the Huawei Watch stand out among the pack is its ability to blend in: It actually looks like a high-end watch, and will be available in gold, silver, and black. The Huawei Watch will be sold in more than 20 countries, but the company has not released pricing or a ship date.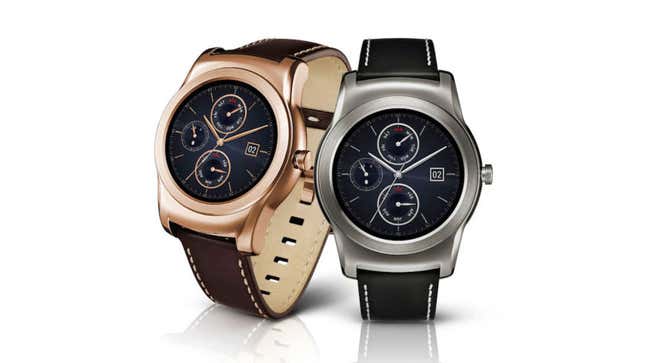 Taking a similar approach, LG is breaking away from the boxy design of its G Watch, which debuted last year. Its new LG Watch Urbane—equipped with heart rate, motion, and barometer sensors—is aiming for a higher-end market than its predecessor with polished silver and gold finishes and leather straps. The circular watch face mimics the look of old-fashioned wristwatches by constantly displaying the time in a low-power mode. The company says it plans to ship the Watch Urbane in the second quarter, but has not said how much it will cost.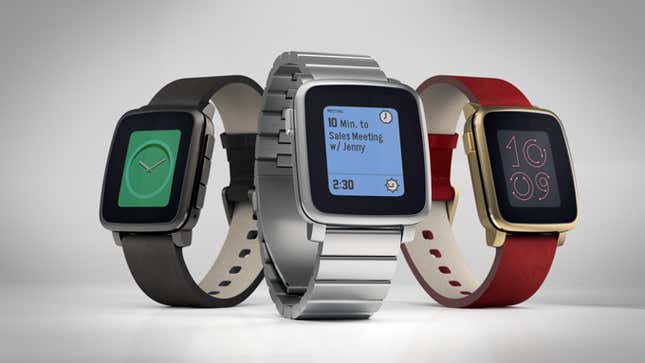 Pebble chose a different tack—a direct appeal to its fanatical base. As with its original Pebble Smartwatch, the company has turned to crowdfunding to cover the costs of making its new watch, Pebble Time. It raised $1 million within the first half an hour. By Wednesday, it became the most backed project in Kickstarter history, and as of press time, amassed more than $16.5 million in pledges with 21 more days to go.
The new Pebble watch sports a color e-paper display, increasing battery life up to a week. A new timeline view, which is controlled by three physical buttons on the watch, organizes events by past, present, and future. The company says it will begin shipping Pebble Time, which starts at $159 for early backers, in May.
Pebble had a head start in smartwatches, but Gartner wearable analyst Angela McIntyre says its impact has been small, selling an estimated 750,000 to 1 million units last year. Smartwatches have been the "most overhyped sector of the tech economy," says Scott Galloway, a professor who teaches brand strategy and luxury marketing at New York University's Stern School of Business and founder of digital agency L2.
He thinks Apple could catalyze the market. "They weren't the first in MP3 players, they weren't the first in tablets, and they're not the first in smartwatches," Galloway tells Quartz. "But in each of these categories they managed to come in and say, 'Play time is over,' and they come in with something that's typically slightly better in utility and a lot easier to use. And that cocktail has been one of extraordinary success."