Being a manager in the English Premier League is hard. With the huge amounts of money at the top of the table and the threat of relegation to the lower leagues at the bottom, it is almost impossible to stay a manager in England's soccer top flight for too long—unless you're a certified footballing genius.
Last year, 12 managers were fired by the end of the season—and there are only 20 teams in the league! A manager has been fired every year since the Premier League was created in 1992. There's even a website called the Sack Race dedicated to the comings and goings (mainly goings) of managers.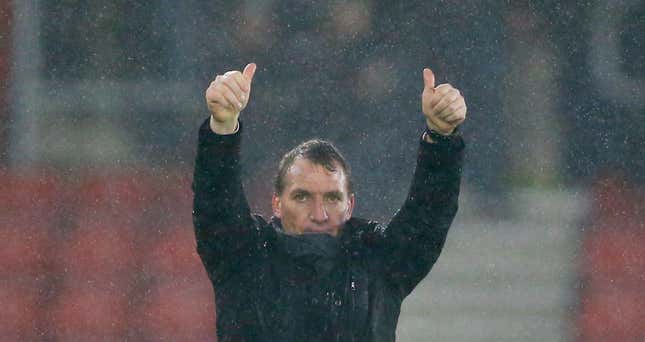 So it was nice when Brendan Rodgers, the manager of Liverpool, talked so candidly of what it takes to manage at the top of the English game earlier this week.
Only one thing matters
Rodgers is considered one of the best young managers in the game—and he proved it by almost taking Liverpool to the Premier League title in 2013-14. But Rodgers started badly this season: Liverpool lost six of its first 12 games and had collected its fewest points by December since 1992. After Liverpool lost 3-1 to Crystal Palace, Rodgers clearly felt he'd hit the nadir of a bad run, saying:
After that Palace game I felt that it doesn't matter how much support you have, the team is not functioning and it could not go on really.
That sobering admission of how close he suspected he was to being fired—even though Liverpool's owner, Boston Red Sox boss John Henry, had backed him publicly—shows not only self-awareness but also that he has learned from his previous time as the manager of Reading back in 2009:
I understood the situation. My experience at Reading told me that. That's what I learned from my sacking there. I went in to Reading with the full backing of the chairman, who was great to me, and I got 20 games. Even though it was a three-year project and they wanted me there and I was the guy who knew the club more than anyone, I got the sack after 20 games. Funnily enough it had just started to pick up but they lost their patience.

What I learned was it does not matter how much support you have in the boardroom, from the directors, the executives, you have to get results and you have to win.
Make changes—especially when you have no choice
Rodgers was still trying to play variations of a high-tempo 4-3-3 formation but he had lost Luis Suárez, one of the world's best players, to lead the attack. The result was that Liverpool was sluggish, slow, and predictable.
We had no identity and everyone could see it. It was not working and of course that can eat away at you. I knew I had to do something radical because I had seen enough of the players to know we were not going to shape up and work as we had done for the previous couple of years with what we had got.
Rodgers toyed with changing to a 3-4-2-1 formation, using a lone striker, at Newcastle. Again, Liverpool lost. But though he scrapped the formation for the next few games, it turns out Rodgers hadn't read the Newcastle defeat as a proof that the formation couldn't work:
At Newcastle Raheem Sterling played as one of the wide players. So what did I get out of that game apart from a loss? I learned that Raheem probably won't be able to play wide in what I was looking to do because he's not in the game enough.
Positioning Sterling, one of the club's youngest and most talented players, would be key to reviving Liverpool's fortunes.
Know when to take the risk
Managing a Premier League club is hard. Managing one of its greatest clubs is harder. It turns out Rodgers had the 3-4-2-1 solution in mind long before Newcastle. But with Liverpool's next competitor the formidable Real Madrid, Rodgers held out using the formation until the team was ready:
I was looking at [the new formation] then and used it in the cup games so I knew what I wanted to do earlier, but after Newcastle we had Real Madrid and I wasn't going to go into a game of that magnitude with a system that I knew needed more work on.
Rodgers' calculation showed to the fans his respect for Liverpool's history of success. While the team is not the soccer powerhouse it once was, a match against the best team in the world was not the place to take a risk that might end in disaster for the Merseyside club. A humiliation could also have ended his tenure.
Instead, he waited until playing Liverpool's most hated rival—Manchester United—to roll out the new 3-4-2-1 formation. Unlike the version Rodgers used against Newcastle, though, he moved Sterling into role of the lone striker even though he's not an out-and-out attacking forward.
Liverpool lost that game—but played well. They haven't lost a game in the league since. From being 12th, Liverpool are challenging for the top-four spots with a new-found confidence under the new formation. The transformation has been remarkable.
Rodgers called the bad patch at the start of the season "probably the biggest challenge I have had as a coach or manager at a club of this size." He has come out of it with his head high—and Liverpool high in the table.