Sorry Katniss. Clint Eastwood's American Sniper is officially 2014's highest grossing film in the United States, beating out The Hunger Games: Mockingjay—Part 1, as well as Guardians of the Galaxy.
The film, starring Bradley Cooper as the late US Navy SEAL sniper Chris Kyle, made over $337 million in the US. Here's how it stacks up against the others: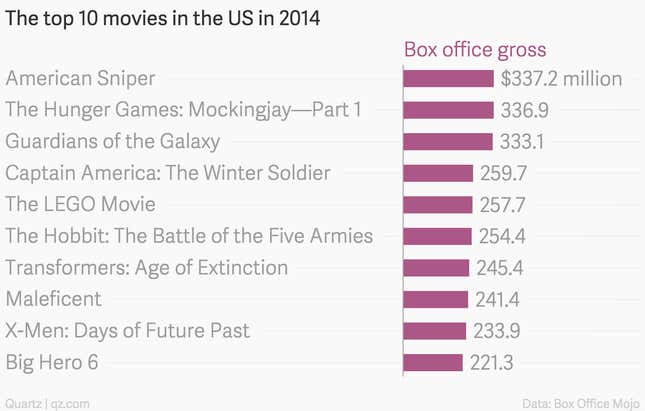 American Sniper is the only film in the top 10 that doesn't take place in a fantasy world or involve nonhuman characters. It won the top box office prize despite being in fewer theaters than all of them, except for Big Hero 6.
War movies typically don't make much money, but American Sniper seemed to be the perfect storm of star power, political and cultural relevancy, and, of course, Hollywood entertainment.
Much of its success is owed to how well it did in America's South and Midwest, two regions that historically don't really boost box office numbers for major Hollywood films. But the movie played well across all areas and political parties in the US, making it the highest-earning war movie of all time. Saving Private Ryan, which previously held that title, made only $216.5 million.
While technically a 2014 movie, American Sniper made most of its money in 2015 after it was given a wide release in January. Still, it grossed more at the box office in the last two months of the year than any other film did in all of 2014.
Despite its box office success, the film was mostly shut out of the Oscars, winning only for best sound editing. (The best-picture award went to Birdman, which doesn't appear in the top 10 by box-office gross.) If Saving Private Ryan couldn't beat out Shakespeare in Love for best picture in 1999, American Sniper certainly wasn't going to win either.
And though it ruled the American movie scene, it predictably didn't do as well internationally. Its US gross made up a whopping 67% of its worldwide gross ($500 million). Here were the highest grossing films in the world last year: