This post has been corrected.
Ahead of the April 24 rollout of the Apple Watch in China, major online retailers like Alibaba's Tmall and JD.com are trumpeting their involvement in selling the highly coveted gadget.
"The Apple Watch rollout represents another milestone for Tmall," Alibaba said on its Alizila blog, "in its effort to provide Western brands with a direct sales path to free-spending Chinese consumers." JD.com, on the other hand, boasted of its three-hour delivery service, "for those who want their Apple products even faster than standard same-day delivery."
But with the Apple Watch still weeks away from its April 24 launch, industrious copy-cat tech companies are already using Tmall and JD.com to sell their "almost like the real thing" knockoffs. The cheapest Apple Watch retails for $349, while the knockoffs start at around $50.
Apple Watch sales in China are key to the product's overall success. While these "inspired by Apple" products are so cheap that they are unlikely to fool anyone looking for the real thing, and many are clearly labeled as Android devices, they look so much like Apple watches they could still impact local sales.
Copy-cat manufacturers seem to have zeroed in on the relatively inexpensive Apple Watch Sport edition, perhaps figuring that anyone interested in a $17,000 gold Apple Watch Edition isn't going to be satisfied with a knock-off.
On T-Mall, Alibaba's business-to-consumer site, looking for a Apple Watch will get you an "Ai-Z20" for $46.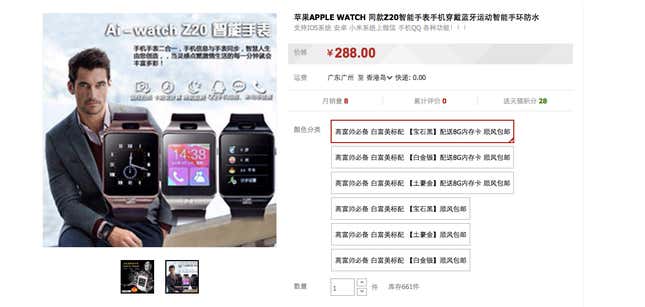 The advertisement appears to be doubly duplicitous—the Ai Z20 is actually a recently released French-designed smartwatch that doesn't look much like the Apple Watch.
On rival JD.Com, there's a robust assortment of lookalike products, including this sleek "Taiwan Master D-watch" that costs $46. The product is an Android device that does not purport to be an Apple watch, but its form factor is identical and it boasts that it is "more powerful than the Apple watch."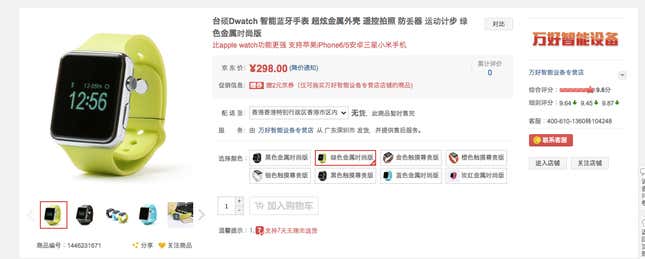 DFYou, a Shenzhen manufacturer, has this "smart bracelet," which you can buy wholesale for about $48:

It comes in the full range of Apple sports watch colors, claims to have a 168 hour battery life, and works in seven languages.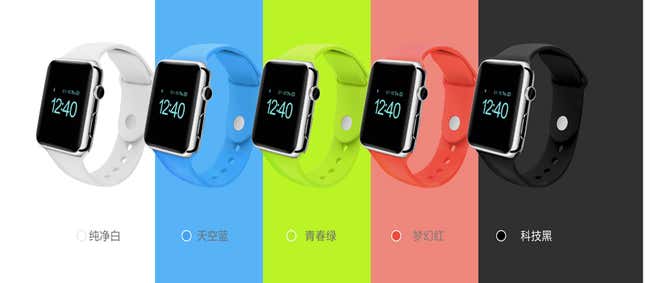 The southern Chinese Shenzhen is the world's biggest center for generic electronics, both for legitimate sale and for counterfeits. "These guys are specialists," Laurent Le Pen, CEO of Shenzhen smartwatch maker Omate, told CNN. "The speed at which they can bring copies on the market is amazing."
Alibaba, which is facing a government investigation into counterfeit goods sold on its sites, seems to be pulling down products advertised as "Apple Watches" or like the watches fairly rapidly. The Ai Z-20 watch was available Wednesday morning in Hong Kong, but had disappeared by the afternoon. In an e-mailed statement, an Alibaba spokesman said:
Alibaba Group is dedicated to the fight against counterfeits. We work closely with our government partners, brands and industry associations to tackle this issue at its source. We also utilize technology like data mining and big data to scrub our platforms of counterfeits.
Because of an editing error, this post was initially published with a photo of a JD.com product page that showed a third-party watchband for an Apple Watch—not a counterfeit Apple Watch as it may have appeared. The post has also been updated to make clear that the "Taiwan Master D-watch" offered on JD.com does not purport to be an authentic Apple Watch.