Last June, Facebook poached PayPal president David Marcus to oversee messaging products. The move seemed highly unusual given Marcus's background in payments, but the pieces of the puzzle are coming together now. Facebook is adding a feature that lets friends send money to one another over Messenger.
To use it, Facebook users first will have to link a Visa or MasterCard debit card to their account profile and create a PIN. (iOS users can also use the fingerprint reader on newer iPhones and iPads as a security measure.) To send money over Messenger, users will tap on the $ icon on the screen and enter the amount they want to send. Facebook says the capability will be rolled out "over the coming months in the US."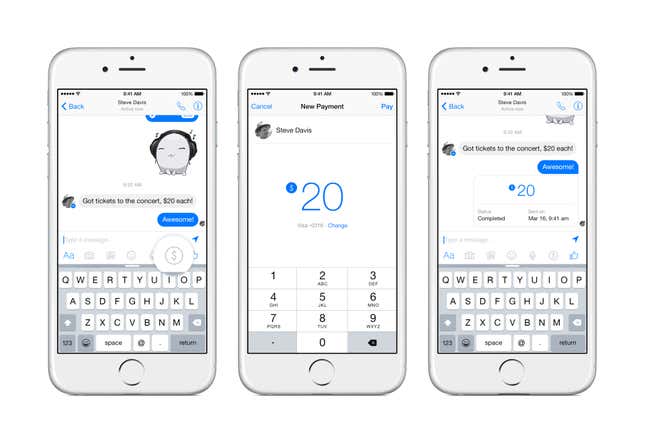 The process is similar to Snapchat's money-sending feature, which uses technology from Square. A Facebook spokesperson tells Quartz that the Messenger payments system was developed entirely in house.
Shortly after Marcus joined Facebook, the social network removed messaging capabilities from its flagship app, forcing users to download the standalone Messenger app (currently the No. 1 app for iPhones, according to App Annie). It got plenty of backlash for doing so. But it's now very clear what Facebook's intentions were. While advertising sales have been steadily growing for the company, revenue from payments (transacted outside of Messenger) and other fees have remained flat.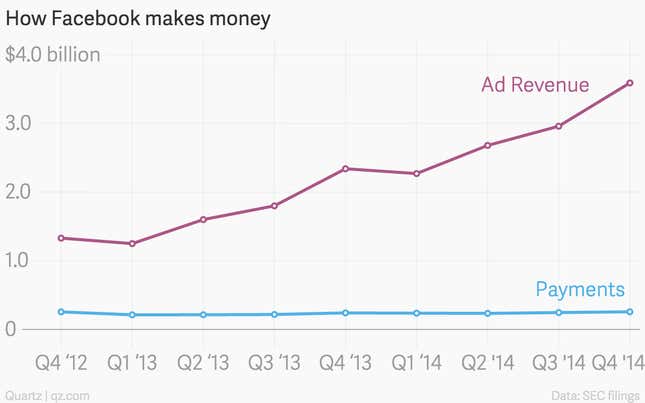 Currently, Facebook says it processes more than 1 million transactions daily on its site, but we'll likely see a big uptick in the company's transaction volume and payments revenue in the coming quarters.