It's been 338 days since more than 200 Nigerian school girls were kidnapped from their boarding school in Chibok in the country's northeast by the Islamist terrorist group Boko Haram.
Their abduction got major international attention from a #BringBackOurGirls campaign that went viral, including support from Michelle Obama and Hollywood stars like Selma Hayek (pictured below).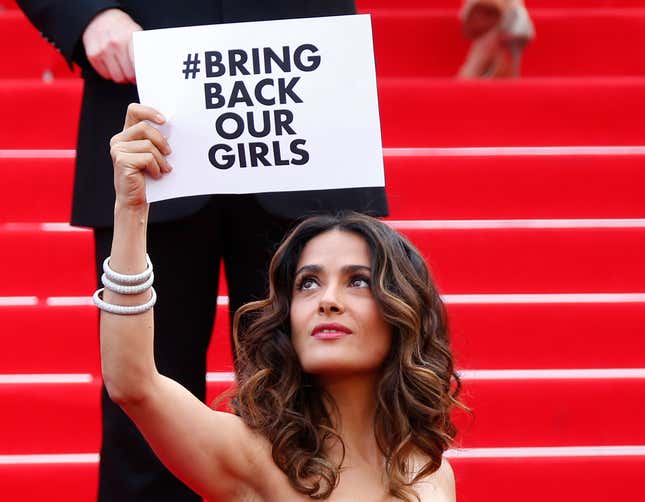 While a few of the girls escaped, most are still being held captive. The Nigerian government has made numerous promises to find all the girls alive and return them to their families. But after several claims from authorities that they were on the verge of finding them, the trail seems to have gone cold.
There has long been an expectation that the girls were being kept somewhere in the deep Sambisa forest in Borno, Nigeria. But there is also now an added fear that the girls had been sold off into enforced marriage by the terrorist group to raise funds. In recent weeks there had been some hope the girls would be found because the Nigerian Army has had a renewed focus on pushing back Boko Haram, with support from neighboring countries and hired "technical advisors"—otherwise known as mercenaries.
According to Reuters, at the start of the year Boko Haram had controlled up to 20 local government areas—equivalent to the size of Belgium—as part of its stated aim to create an Islamic Caliphate similar to Islamic State in Iraq and Syria. The Nigerian army says it has reclaimed all but three of the areas.
But the army, which has been bullish about its successes in traditional and social media is clear about one thing: It has no idea where the Chibok girls are now.
"In all the liberated areas we have, we have also made enquiries but the truth is when the terrorists are running away they also run with their families," said Army Chief, Kenneth Minimah, according to Premium Times. "And those we have come in contact have not made any comments suggesting that Chibok girls were there and taken away.
There is a greater hope of defeating Boko Haram since the involvement of Nigeria's neighboring countries: Chad, Niger, Cameroon and Benin. It means there are fewer places for Boko Haram to run and hide with the girls. And certainly finding the girls now, with less than two weeks to presidential elections on March 28 would give a huge boost to president Goodluck Jonathan's re-election chances in what is widely believed to be a very close race.
"We are optimistic that as the war gets closer, the territory is becoming elusive to them (terrorists) and we will get further details," said Minimah.