AUSTIN, Texas—The biggest rockstar today at the music industry's biggest get-together of the year was a Nobel prize-winning economics professor and New York Times columnist.
"This is my virgin experience," Paul Krugman said to much laughter, before a packed auditorium at the South by Southwest music conference.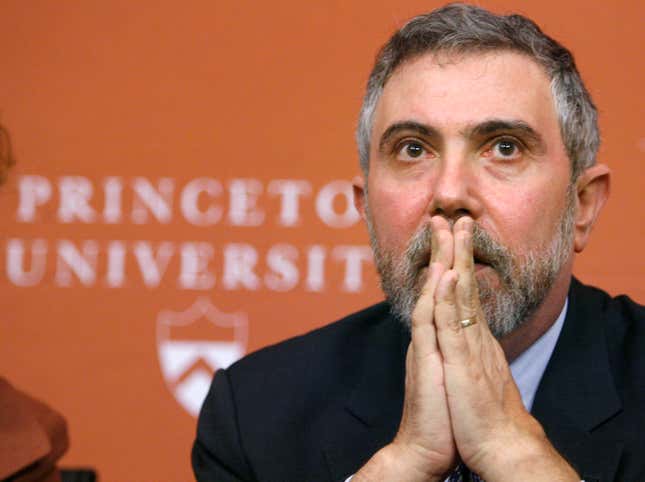 Krugman, a huge music fan, seemed a bit confused about his role on a panel discussing the future of music. "I don't exactly know why I am here," he said, later adding, "I don't know anything at all really."
Yet Krugman proceeded to speak with more sense than just about anyone else we've come across at the hyper-commercial gathering, which often feels less like a serious entertainment industry conference and more like a pitch-fest masquerading as a serious entertainment industry conference.
The music business is going through a huge period of introspection amid the rise of streaming music platforms, and the decline of CD sales and digital downloads (and somewhere in all this is a surprising resurgence for vinyl). But Krugman said the primary way for artists to make a living out of music is no different than before. "It has always been live performance," he said. "There is really no reason to think that's going to change."
It's tough for artists to make money out of recorded music, but it always has been, he noted. Arcade Fire lead singer Win Butler, seated next to Krugman on the panel, concurred. "Essentially artists have been getting screwed over at the same rate since the beginning," Butler said. Now, he argued, it's just different middlemen doing the screwing.
Krugman worries that there is a "1% phenomenon" emerging in music, which perhaps offers a parallel to the broader problem of inequality in western economies—another concern of Krugman's. "The share of those revenues going to a few bands at the top has massively increased," he said.
As Krugman himself noted, not everyone can command high ticket prices and fill out arenas to make a viable living from music.
"I actually don't quite understand how the bands I like are even surviving," he said. "It's remarkably tough out there."
It was a refreshing bit of humility at a conference where plenty of people pretend to have the answers, and the audience loved it.