Less than 18 months into its life as a public company, Twitter is still in hyper-growth, loss-making mode, yet it's already busy seeding other companies with venture capital money.
The company—its Twitter Ventures arm, specifically—was one of the participating investors in a recent, $80 million funding round for Cyanogen, which describes itself as a "a leading mobile operating system pure-play." The Wall Street Journal first spotted the news. Other investors included chipmaker Qualcomm and media baron (and Wall Street Journal owner) Rupert Murdoch.
It's not a huge surprise that Twitter now has a VC arm. When former Goldman Sachs banker Anthony Noto was appointed CFO in May 2014, his predecessor, Mike Gupta, was moved into a new role overseeing strategic investments. Twitter joins the likes of Google and Intel in setting up a separate ventures division that presumably will invest relatively small amounts of money in promising startups.
The motivations behind corporate venture capital funds have attracted some scrutiny. Google insists that its extremely active VC arm, for example, exists to generate returns on the company's cash pile, rather than to unearth new, strategically important technologies—although Google did end up acquiring one of the companies the venture arm invested in, the thermostat maker Nest.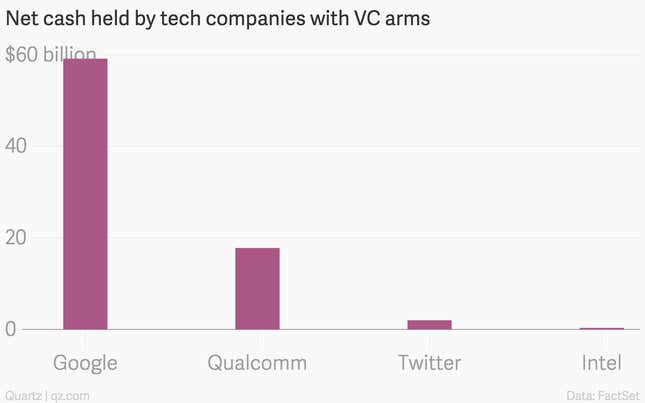 Twitter has considerably less cash than Google, so we can assume its motivations are different. But that's just a guess; the company declined to comment.
We don't know yet how much capital the venture division will have to spend yet. Twitter has about $2 billion in net cash on its books, according to Factset. Google Ventures alone has almost $2 billion under management.
Separately, Twitter shares are flying today, up more than 6% and hitting their highest levels since October. And CEO Dick Costolo is in India, meeting with prime minister Modi.
At least the company is giving people something to talk about besides user growth.