Facebook has turned its chat app, Messenger, into a platform that can integrate third-party apps, letting people send rich multimedia messages, such as GIFs, stickers, and videos. Such a platform, which reaches 600 million users a month, also spells opportunity for businesses to better engage with—and sell to—customers.
In a demo on stage at the social network's developer conference yesterday, David Marcus, Facebook's head of messaging products, showed off the customer service experience over Messenger (see above). With order and shipping information sent directly to the chat app, customers no longer have to dig up old emails or log into their accounts just to talk to customer service representatives. They'll even be able to place orders ("I really like this shirt, can I get one in another color?") over the app and confirm their purchases by hitting the big blue thumbs-up button.
"This turns support into a revenue-generating center rather than what many people perceive as a cost center," Zendesk's director of product, Jason Smale, tells Quartz.
Zendesk, which is powering the first two business integrations for the online retailers Everlane and Zulily, shared the following screenshot, showing the other side of the interaction.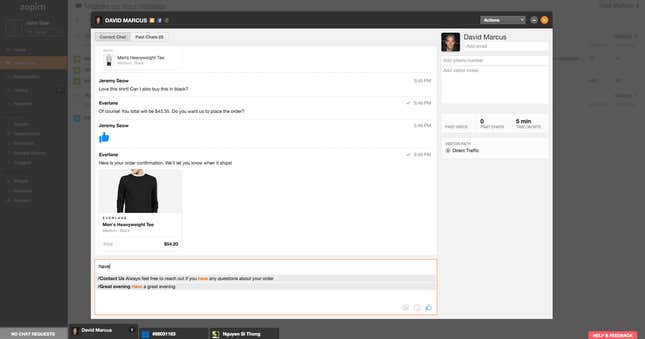 Notice the tabs on the bottom of the screen. Customer service representatives are juggling multiple conversations with customers and colleagues simultaneously. This allows them to quickly consult team members to track down answers to customers' queries. The bottom of the window also shows automatically suggested canned message options based on the words the representative has typed.
Overall, people who contact support teams using live chat tend to be happier with their interactions over those who do so over email, says Smale. "We take that to the next level with Messenger," he says, noting that the company is also exploring integrations with other mobile applications.