This post has been updated. 
To paraphrase his own lyrics, Jay Z is not a businessman, he's a business, man. Let him handle his business, damn.
The rapper and entrepreneur (and husband of Beyonce) recently bought the relatively obscure Scandinavian "lossless" streaming music company Tidal for $54 million. And he is not wasting any time in attempting to make that business bigger.
Jay Z (or Shawn Carter) has enlisted some of the world's highest profile performers from across the musical spectrum for his new venture speaks to his clout in the recording industry. It is also at odds with the skepticism and outright hostility Spotify has sometimes encountered in dealing with artists.
Not participating (as yet) in this promotional stunt is Taylor Swift, who famously pulled her entire catalog from Spotify last year in a dispute over royalties. But the message from today's promotion is clear: With Jay Z at the helm, Tidal is putting artists first.
Update 5:30pm ET: The Financial Times (paywall) is reporting that Jay Z has granted equity and cash advances to many of the artists promoting the service today. This was effectively confirmed at Tidal's press conference in Manhattan this afternoon, where the artists, including Rihanna, Kanye West, Madonna, Jack White and others, formally signed on as co-owners and hailed the beginning of a new era in music.
Yet the very reason why performers are backing Jay Z's service is why it could face an uphill battle gaining users.
Tidal's hi-fi or "lossless" tier costs $20 a month in the US—twice the price of services that currently exist, or will soon exist. (Recent reports suggest Apple's heavily anticipated new service will also cost $10 a month). Whether there's demand for such a product at that price point remains highly questionable.
Tidal also appears to have introduced a new standard sound quality option that will be priced in line with other services. It has no free, ad-based option, although it is offering a 30 day trial for both of its products.
Spotify has so far had more success than anyone else in convincing people to pay for streaming music subscriptions.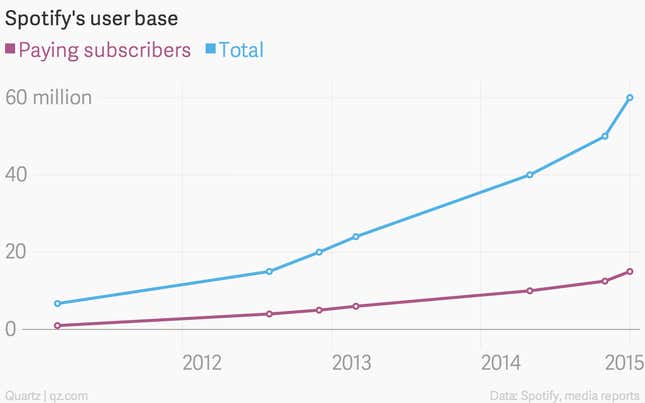 It has amassed 15 million paying subscribers, but says 80% of those were previously free users. Unless something changes, Tidal will not have such a conduit.
Meanwhile, Apple will be able to pre-install its new revamped music app on hundreds of millions of its devices. There are also already an estimated 800 million existing iTunes accounts. If Apple can convert a tiny fraction of them into paying streaming subscribers, it will be a force to be reckoned with in the industry.
Tidal does not have this luxury. But it does have Jay Z. And if nothing else, Shawn Carter's foray into streaming adds to the groundswell of opinion that subscription based streaming could be a colossal opportunity for the music business. Jay Zs attempt to address this opportunity may be unconventional, but he's a model entrepreneur, after all.
Update 5:30pm ET: Updated to include details from Tidal's press conference.