Risking the wrath of American sports fans, ESPN has completely overhauled its website.
And here's what it looks like: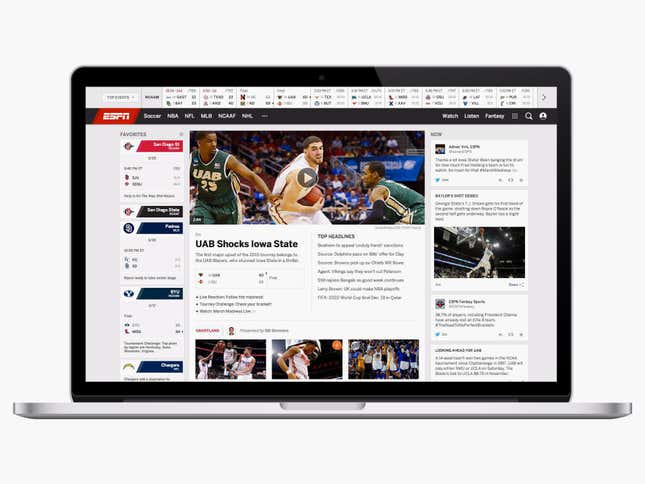 The redesign follows the relaunch of ESPNs mobile apps last month, and coincides with the 20th anniversary of the Disney-controlled sports broadcasting monolith's website tomorrow.
Among the more noticeable new design features are infinite scroll (which we are fond of here at Quartz), and the inclusion of "ESPN Now," a curated feed of news, images and video clips from social media and ESPN's own properties. The absence of the color red, prominent in the old site, is also striking (at least for people who use the desktop site a lot). The site is also now responsive to adjust to the user's device.
The redesign, which goes live tomorrow, comes at a time when people are questioning the future of the news website, due to the increasing stranglehold of third party social networks over audiences. Some high profile publishers, such as the New York Times, are discussing  (paywall) publishing some content directly on the biggest social network, Facebook, rather than on their own sites. ESPN is engaged in a similar experiment with Snapchat, producing content for the ephemeral video startup that lives within that app.
Evidently, the redesign shows ESPN thinks the website has a long and bright future ahead of it. According to comScore, its digital properties attracted 74.6 million unique visitors in the US during February, ranking it first in the sports category and 28th among all outlets.
Basically, the redesign makes espn.com consistent with the company's other recently revamped digital properties, in an effort to unify the user experience. ESPN is confident that users will respond positively to the changes. "This is a different website, different means change… [but] I am confident that the things we have done are intuitive and make sense," ESPNs head of product Ryan Spoon tells Quartz. "We have feedback from thousands of people from user testing to suggest that this isn't just gut instincts, but …when you have a user base for 100 million people in the US, everyone uses the site in different ways."