Unicorns, or startups valued at $1 billion or more, have been getting a lot of attention lately. But it isn't just high-profile tech companies like Uber (valued at $40 billion) and Slack ($1.2 billion, with rumors this might double soon) that investors are excited about. Across the board, valuations are climbing, according to data from research firm Pitchbook.
Overall, the start of 2015 saw a slowdown in venture capital activity with 1,894 deals logged in the first quarter, down 24% from the same year-ago period. All the while, the industry has seen a spike in valuations. As of the first quarter of 2015, the median startup valuation was $27.9 million, a 58% rise from 2014's full-year median of $17.7 million.
The most dramatic increase can be seen in later-stage startups. Of companies that raised money in a series D round or later, the median valuation was $289.6 million, a 91% leap from $151.7 million last year.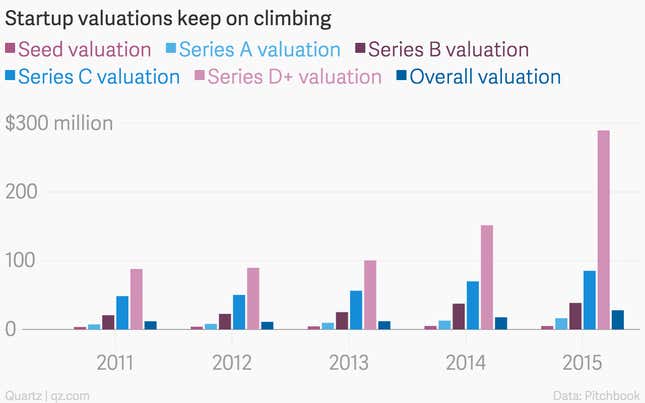 While these numbers are impressive, one thing to keep in mind is that calculating startup valuations isn't an exact science. Unlike public companies, which make their financials readily available and have market capitalizations that are easy to calculate, startups are much more opaque. Their worth is determined by investors who negotiate the size of their ownership stakes based on how much they invest. And as Bloomberg recently noted in a story looking into this fuzzy math, the factors that help determine valuation can vary from growth projections to a founder's ego.