In hindsight, it makes perfect sense why Facebook's spent the last half year aggressively pushing its mobile users to use its standalone Messenger app. All along, the plan was to turn the chat app into a platform—yet another way to appeal to marketers and persuade developers to build on the social network's technology. Now the company is hoping to further expand its efforts by bringing Messenger to web browsers.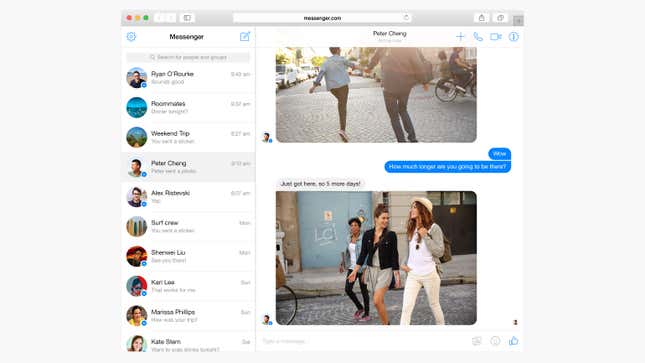 For Facebook, which now has 600 million monthly active users on Messenger, the standalone web app extends the company's multiple-app strategy to desktops and also helps Messenger bridge the gap between phone and computer.
But what's in it for users? They can continue to chat with friends over Facebook, as they always have, but the company is hoping they'll use messenger.com for a more robust experience—complete with money-sending features and third-party integrations—that's free from the distractions of its News Feed.
Messenger gained traction on mobile because Facebook forced users to download the app if they wanted to chat with friends on their phone—not because they actually desired a standalone experience. Without a similar push on browsers, it remains to be seen if Messenger on desktop will be compelling for users. As it stands, 36% of Facebook's desktop users access the site from their work computers, and the social network's desktop traffic peaks during the workday. Clearly, many people are actually craving that mid-day distraction.