China's unevenly distributed wealth is beginning to create ideological divides.
According to researchers from the Massachusetts Institute of Technology, Chinese from richer and more developed provinces are more liberal than those from poorer rural areas. As defined by the researchers, China's liberals tend to support things like constitutional democracy, individual liberty, market-oriented reforms, sexual freedom, and modern science. Conversely, Chinese conservatives prized nationalism, the supremacy of the state, traditional Confucian values, and showed more support for a return to socialism and a state-controlled economy.
"Provinces with higher levels of economic development, trade openness, urbanization are more liberal than their poorer, rural counterparts," the paper concluded. Other factors contributing to ideological orientation included higher levels of education and more exposure to Western ideas, according to the survey of 171,830 Chinese across the country.
The result is a distribution of liberals and conservatives across the country that looks somewhat like the United States' red and blue states. (Because of the countries' prevailing ideologies, the liberal and conservative labels are somewhat reversed.) Nevertheless, in China as in the United States, heavily urban provinces along the coast are mostly liberal, and rural inland provinces are more conservative. The middle of the country tends to be more moderate.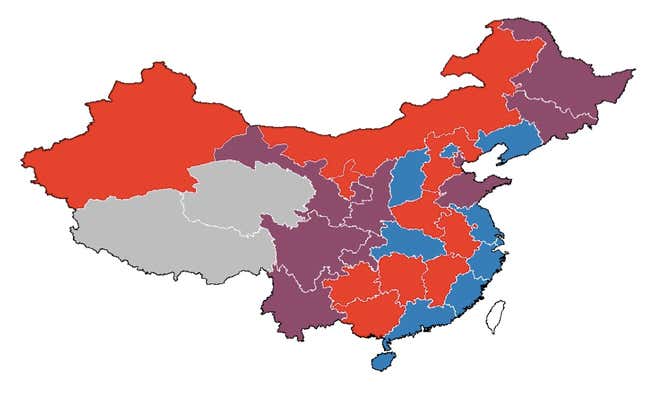 The study circulated on Chinese social media this week, prompting surprise among some internet users (registration required) that a once-fanatically Maoist area like Liaoning in the north—where Mao Zedong's nephew helped imprison and kill over 20,000 people deemed ideologically incorrect during the Cultural Revolution—is now the 10th most liberal province. (Shanghai, Guangdong, Zhejiang, and Beijing were the most liberal provinces; Hebei, Inner Mongolia, Anhui, and Hunan were the most conservative.)
Others wondered about the role of income in political leanings. "The blue provinces make up 80% or more of the economy. Is that the reason or consequence? The more foolish you are the poorer you are, and the poorer you are the more foolish you become," one blogger wrote (registration required).
Beijing wasn't happy with the suggestion that ideological divides exist in China. The study is now censored online, and Chinese state media criticized the survey, with the state-run tabloid Global Times calling its findings "absurd." The paper concluded: "China is led by the Chinese Communist Party and China's political system is highly effective in the Chinese mainland with no region held as an exception. And there is no concentrated area for so-called 'leftist' or 'rightist' groups in China."