The North American market for online custom menswear has mushroomed in the past few years, giving guys more options than ever for getting a high-quality, relatively low-cost shirt cut to precise specifications, without having to visit the tailor.
The customization options don't stop at the shirt's measurements, either. Customers can choose everything from the fabric to design details such as the collar shape and type of placket.
The sheer number of such services available online—each with its own strengths and weaknesses—can make it tough to pick a website when it comes time to order. Getting a shirt tailored involves an investment, of time as well as money, and the choices can be overwhelming.
Quartz has combed through the many, many companies doing custom shirts online and narrowed the field to three of the best options based on the experience they offer, ease of use, product quality, site design, and price. They aren't the only good services out there, but they managed to stand out from the pack.
Here are our picks:
The personal experience
The Dallas-based company J.Hilburn works differently than many e-bespoke shops. On most sites, you select the details of your shirt and submit your measurements entirely online, which for the first-time buyer can be daunting. But J.Hilburn requires an in-person fitting with one of its stylists in order to make a first purchase.
What's nice is that, once you schedule your appointment through the J.Hilburn website, the stylist comes to you (they operate in cities across the US). 
There is no additional cost for the service, in which you get measured by a professional, see fabrics in person, and get guidance on the details of your shirt, just in case you aren't certain whether, say, a spread collar or cutaway collar is the right choice. After you've been measured once, you can order new shirts through the site without another stylist visit.
Shirts start at $99, while its premium shirting can reach well over $300. It also sources fabrics from noted Italian mills, such as Albini, and guys looking for a custom suit or trousers can get those from J.Hilburn as well.
The best web design
The foundation of a shirt is the fabric its made of, and a quick look at the online custom landscape will show you that just about every site out there has a bunch to choose from. The problem is they don't always make it easy to do so. That's where the New York company Proper Cloth, which launched in 2008, has a clear advantage over its peers.
The site's interface lets you easily sort fabrics according to a range of criteria, from basic qualities, such as color, pattern, and price, to fine-grained details, including thread count and thickness. Want a light-blue broadcloth with a thread count of at least 120 for work? Or a heavyweight charcoal flannel for the weekend? Proper Cloth makes it simple to search for either. You can even select the country of origin—Italy, Japan, or Portugal—or the mill that made the fabric, if your tastes are particularly esoteric.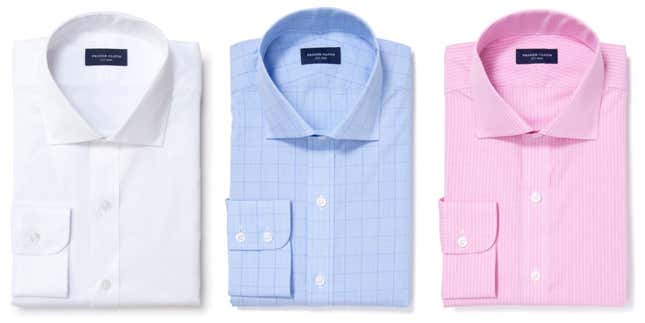 The company also offers a variety of ways for you to nail down the measurements of your shirt. You can use body measurements you take yourself, or if you have a shirt you already like the fit of, you can submit those measurements. If you're not certain about your measuring abilities, you can mail your favorite shirt to the company's New York showroom and have it copy the fit.
Prices begin around $85 and go lower for shirts on sale. While Proper Cloth doesn't have as many customization options as some of its competitors—you can't order a mini point collar, for example, the way you can on Blank Label's site—it does offer the standard options that most men will probably select from anyway.
The entry level
If keeping it inexpensive is your main concern, especially for your first go at a custom shirt, Modern Tailor is a great place to look. You won't find the company boasting of fabrics sourced from a high-end Italian mill in the foothills of Tuscany—but then, the starting price for a shirt is just $39.95. First-time customers can order a trial shirt for just $19.95.
The shirting fabrics span a wide range of colors, and customers get a lot of customization options—there are more than two dozen variations on collars alone.
Men and women—the site does custom for both—have the option of taking measurements themselves, or, like Proper Cloth, Modern Tailor can knock off the fit of your favorite shirt if you mail it in. But be aware that although the company headquarters are in Michigan, the location you're sending your shirt to is their production office in Shanghai, China (pdf), which means you'll have to fill out customs forms if you're outside the country.
The site design isn't the best of the lot, but it's functional and fairly straight-forward to use. The return policy is also a bit less forgiving than the other entries in the list. The company won't do any free alterations unless you prove they're at fault.
Overall, the site is a fine no-frills option for an inexpensive shirt made to measure. You can also get a suit or trousers custom-made on the site at similarly low prices, or even a uniform.