With its anti-trust case against Gazprom, the European Commission is striking at the heart of a powerful tool that Russian president Vladimir Putin has used to punish nations that he views as unfriendly or weak.
That tool is Gazprom's dominating 30% control of Europe's natural gas supply, including a market share well over 50% in each of the eight Central and Eastern European nations named in the suit. Filed yesterday in Brussels, the case accuses Gazprom of abusing its market position in part by "significantly" overcharging blacklisted countries, or those that simply cannot fight back, while providing discounts to those in Russian favor.
The nations most subject to the higher prices are largely those that import most of their gas from Russia. The top several countries in this chart are particularly vulnerable to Russian pressure.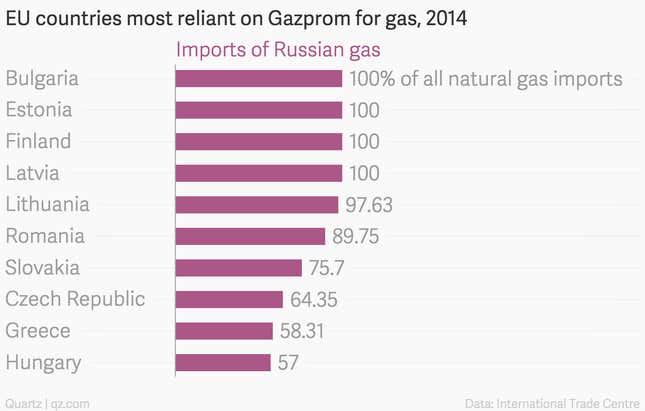 The European Commission's stated objective is to get Russia to charge everyone a market price, without singling out those it can take advantage of or feels like bullying.
But the subtext is that, over the last decade, Gazprom has served as the spearpoint of Russian foreign policy in Europe, and—though this is not part of the lawsuit—in former Soviet Union states such as Ukraine and Georgia.
At the same time, Gazprom is one of Putin's most vulnerable spots—the company alone accounts for about 5% of the national budget and sells about 60% of its supply to Europe.
By insisting that Gazprom conduct its business neutrally, the European Union is asking Putin to put down one of his key weapons. Experts say that the Russian leader will fight for years before surrendering.
John Roberts, an expert on former Soviet energy at the Atlantic Council, said that Russia has sometimes appeared to resort to violence to get its way on natural gas deals. In a conference yesterday at John Hopkins University, Roberts said unexplained explosions had disabled either gas or electricity supplies to Georgia, Moldova, Turkey, and Turkmenistan during energy or diplomatic crises involving Russia from 2006 through 2009.
"It's dangerous, Russia—and even more so because it's cash-constrained," Roberts said.
In Europe, independent-minded Lithuania—which until recently has had no alternative but to buy from Gazprom—has been a particular target for Putin. In an unrelated arbitration case in Stockholm, Lithuania asserts that it was forced to overpay Gazprom by $1.6 billion from 2004 through 2012. That was not all: When Lithuania backed Ukraine in its war with Russia last year, Moscow responded by banning Lithuanian dairy products, a key export.
Poland, too, has been in Russia's crosshairs. In 2012, Gazprom was charging Poland $526 per 1,000 cubic meters of natural gas; Great Britain, meanwhile—much further away but able to call on diverse other sources of energy supply—was paying $313.
If the EC case is successful, such favoritism would cease. But, Roberts said, Putin will likely find other ways to try to assert his foreign policy agenda in Europe.