This post has been updated. 
When Floyd Mayweather fights Manny Pacquiao at the MGM Grand in Las Vegas on May 2, the winner will likely be christened the best boxer of his era. Not since Ali-Frazier in 1971 has a boxing match been weighted with such importance. Besides pitting the two best pound-for-pound fighters of the 21st century against one another, the bout will also generate an estimated $72 million in ticket sales, easily the most ever. It is by far the biggest and most expensive boxing match in history, in about every way imaginable.
It's also, perhaps, the most exclusive American sporting event of all time.
After yet another logistical disagreement between the Mayweather and Pacquiao camps, the two sides have signed on the dotted line and made the fight official. That means tickets will finally go on sale today at 3pm EST, according to ESPN. The tickets will be priced at $7,500, $5,000, $3,500, $2,500, and $1,500, and only 500 of them will be made available to the public (the MGM Grand seats roughly 16,000).
There are also tickets at $10,000, but the public can't buy those either. Those, and the 15,500 others, are reserved for friends, sponsors, and business partners of the two camps. This lucky group of insiders, which is sure to include Mayweather's friend and sidekick Justin Bieber, will have to pay for the tickets at face value.
Update (4pm EST): Well, that was fast. Tickets for the bout sold out in 60 seconds. They'll now move on to the secondary market, where they'll be sold for much more than face value.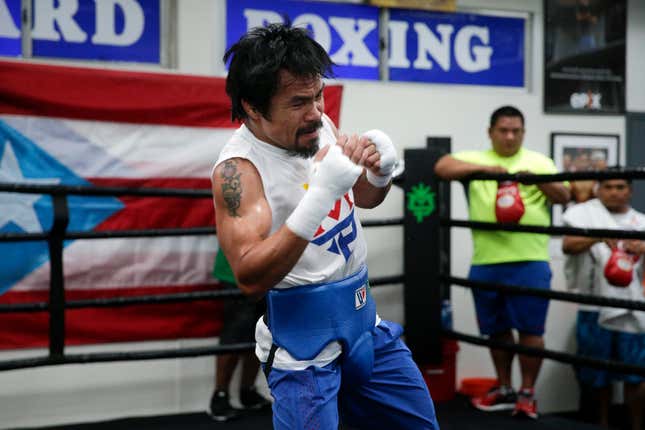 Buyers were already bidding on tickets that, until 3pm EST today, didn't exist. Such "spec" tickets—essentially, promises to provide tickets, made by people who believe they have a way to eventually procure and re-sell a real one—are on sale at SeatGeek for as much as $59,000 for ringside seats. The cheapest spec ticket is more than $5,000. Once tickets sell out, they could fetch for even more than that on the secondary market, when re-sellers can price them however they please.
If you're in Las Vegas for the fight, but not at the MGM Grand, you'll have to buy a $150 closed-circuit ticket to watch the fight exclusively at one of the other MGM casinos, like Mandalay Bay or the Bellagio.
The pay-per-view fight will be broadcast elsewhere in the US on HBO and Showtime simultaneously, and will cost $100 in HD. It's the first time the two TV rivals will coordinate for a match since Lewis-Tyson in 2002.
It was highly unusual for tickets to still be withheld this close to the fight. Les Moonves, president and CEO of CBS (which owns Showtime) was instrumental in helping the two camps negotiate, and served as the voice of reason from the usually difficult Mayweather team. Senator Harry Reid, who represents Nevada, was also apparently helpful.
In 1971, ringside tickets to Ali-Frazier cost $150 ($870 in today's dollars). Even with inflation included, tickets for the Mayweather-Pacquiao superfight will cost 10 times that much. Who said boxing was dead?