China now has more land dedicated to vineyards than any country except Spain after narrowly surpassing France this year, according to the International Organization of Vine and Wine's annual report, released April 27.
According to the report, Chinese vineyards occupy 7,990 square kilometers, or 10.6% of the world's 75,540 square kilometers of vineyards. Spanish vineyards take up 13.5%.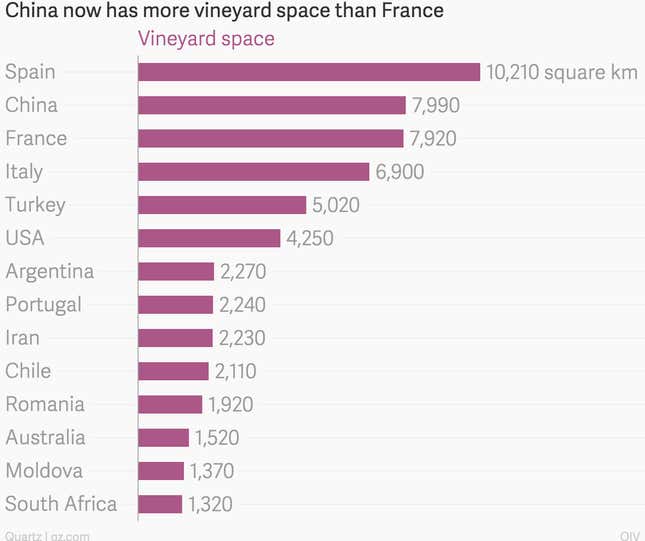 It's a notable milestone for the Chinese wine industry, which has boomed in both supply and demand over the past 15 years. In 2000, Chinese vineyards took up just 3.9% of the world's total vineyard space, and Chinese consumption of red wine increased 136% from 2008 to 2013. Red wine is far more popular than white in China, the explanation for which isn't entirely clear (according to one Western winemaker's study, it's partly because the color red is considered lucky).
The Chinese are also increasingly interested in French wine culture. French oenology schools have experienced an influx of Chinese students in recent years. And to the alarm of some French people, Chinese investors have been buying up entire vineyards in France.
Still, there are signs that that cultural interest may not translate into consumption of French wine, particularly as China's homegrown wine industry continues to grow: Chinese imports of wine from the Bordeaux region dropped 28% in the first half of 2014, according to a BNP Paribas report.