Almost four months into 2015, Netflix is easily the best performing stock in America's benchmark index.
Buoyed by impressive growth in subscriber numbers and its continued international expansion, investors have bid Netflix shares up by more than 60% so far this year. Here's how it compares to some of its rivals.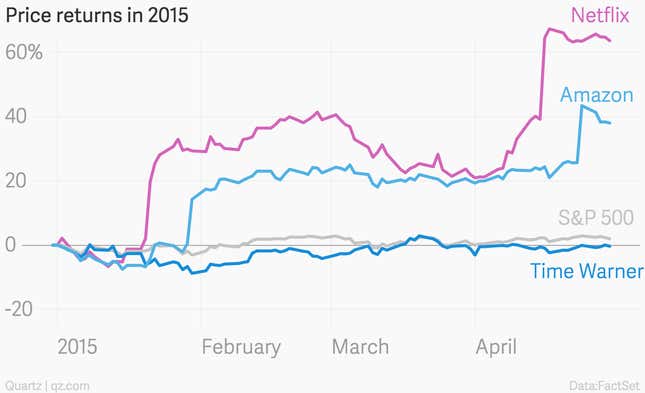 Obviously for Amazon (also having quite a good year on the stock market) and Time Warner (which owns HBO), streaming video is only one of many businesses, unlike Netflix, for whom it is everything.
And Netflix is a volatile stock, so things can change quickly. But its rise—it's now hurtling toward the $600 mark—is still hugely important for global content and media industries. The company recently surpassed CBS, the highest rated TV network in the US, in market value, and is now worth around $34 billion. Indeed, this could be a great time for Netflix to issue new stock (if it thought it needed more capital) or use its stock to go and buy something, although there's no indication that either is on the cards right now.
In fact the company recently requested approval from shareholders to conduct a stock split. Apple took a similar step recently, which basically makes it easier for retail shareholders to invest in the company (and in Apple's case, paved the way for its inclusion in the Dow Jones Industrial Average).
For the record, the next best performing stock on the S&P 500 at the time of writing is oil and gas company Newfield Exploration (up 45%), followed by medical device company Hospira (being bought by Pfizer) and Newmont Mining.