Good things come to those who wait—at least if you're a buyer of boxing tickets. Prices are falling dramatically for the most anticipated boxing match in recent memory—Floyd Mayweather Jr. vs Manny Pacquiao.
While TicketMaster shows that there are no seats left for sale from the venue for the May 2 match in Las Vegas, on third-party ticket sites there are still hundreds of tickets available—and prices are falling.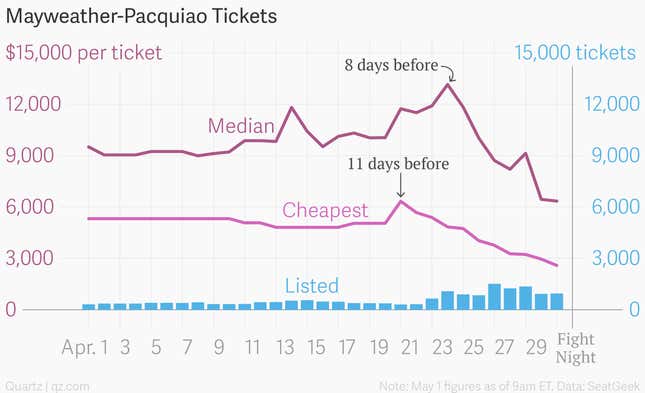 The cheapest seats available for purchase online are now selling for less than half their peak price, according to SeatGeek, a ticket search engine. As of 9am eastern time today, the lowest price of admission was down to $2,586, with half of the 945 tickets listed for sale at less than $6,345. The cheapest ticket price peaked 11 days before the match, at $6,332. The median price peaked eight days before the match, at $13,152.
The prices are falling as more seats make their way onto third-party sites. Before April 23, there was never a day with more than 675 tickets available for sale. Each day since then, there has been at least 834, and on four different days, more than 1,000 tickets were available.
The data was collected by SeatGeek from four listings sites: TicketNetwork, Razorgator, TicketCity, and FanXchange. The trend in resale prices follows that for other big sporting events, including the Super Bowl.