Last year, A+E Networks bought a 10% stake in Vice Media, the media company founded by Shane Smith that aims its brand of brash gonzo journalism at millennials. On April 28, news broke that A+E will soon hand over one of its myriad channels, H2, to Mr. Smith, who will rebrand it as "Vice."
It's a move that makes plenty sense for Vice Media, a company worth $4 billion that already boasts a successful news program on HBO. The new cable channel will give the company a 24-hour presence on television in the US, a lucrative opportunity even as more traditional TV outlets, like HBO, are staking out spots on the internet. As Vice grew, though, it became clear that the company wanted a permanent place on your television (paywall). According to the New York Times, Vice will fill the channel with a slate of lifestyle programming, and is in talks with Kanye West to make a new series.
For Vice fans, this is welcome news. But whether or not you subscribe to Vice's line of hip, at times provocative, reportage, the switch is notable for another reason: It will cast H2—History Channel's spinoff network—back into the fiery chasm from whence it came.
That's right, folks. With the Vice rebranding, H2 will soon be eliminated from the space-time continuum. Launched in 1996 as History International, an honest-to-God world history-focused channel, it was eventually swallowed whole by the swamp of American cable television. In 2011, it rebranded as H2, and became the home for History's most asinine programming—shows about aliens, UFOs, monsters, fake histories, and other things that are neither important nor entertaining (though apparently many Americans might beg to differ). It's currently in 70 million US households.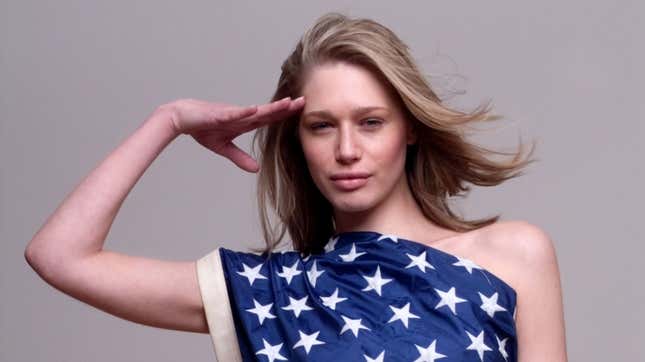 For a time, it aired new episodes of Ancient Aliens (the series that launched a thousand memes), before the show was sent back to the big sister channel. Today, it airs mostly reruns of History's more ludicrous series, as well as a few original shows of its own, like the four-part miniseries Your Bleeped Up Brain, which asks the age-old question, "What does an alien abduction reveal about your memory?"
Despite H2's relative success, A+E brass apparently couldn't pass up on the Vice opportunity. In February, A+E CEO Nancy Dubuc admirably admitted that much of what is on television in the US needs improvement. "[Vice is] talking to a generation we're struggling to connect to as an industry," she said. "Some people like to think, 'well, they just don't watch television.' I would counter that we also don't give them a lot of good television." A+E Networks did not immediately respond to a request for comment. We'll update this story if the company replies.
Perhaps the move signals that network executives are starting to give up on this type of programming. Rich Ross, the new president of Discovery Channel (the network that perhaps most exemplifies cable TV's devolution into pseudoscience), recently promised to rid the channel of its bogus documentaries. The decision came shortly after Eaten Alive, a special about a snake eating a man in which a snake did not eat a man, aired to unanimous contempt. It was a show so unfathomably stupid that even Discovery had to admit it should probably stop doing that sort of thing.
Thus, Vice's takeover of the H2 channel is a win for TV in America. There is still much work to be done, but it is, at the very least, a step in the right direction. Though reality TV drivel still consumes the most airtime, its ratings have quietly declined in recent years, coinciding with the resurgence of quality scripted series on channels like HBO, AMC, FX, and Showtime.
So thank you, Shane Smith. Thank you A+E, for allowing H2 to fade off into the night, never to be heard from again. Now how about you start making History Channel about history again?