Spotify has not waited long since raising hundreds of millions of dollars in fresh capital to launch a major offensive in the streaming music wars.
The company has quietly restarted an aggressive promotion giving new users three months of access to its premium, ad-free tier for just 99 cents. Spotify ran a similar offer, in the US only, back in December, a move that jumpstarted its user growth. In January, just after the promotion ended, Spotify said it hit 15 million subscribers globally, an increase of about 20% in just three months.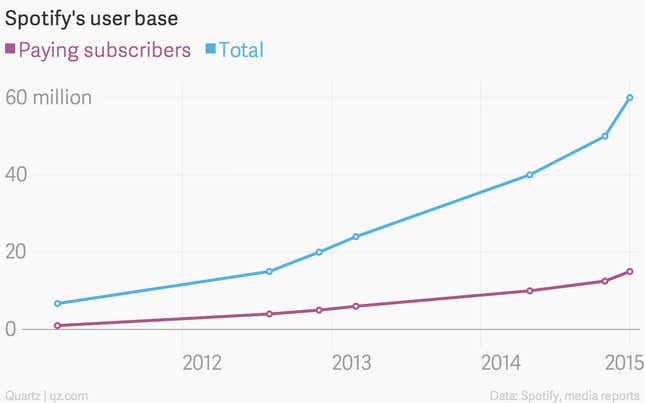 Spotify confirms that the trial offer is back (its return was first reported by industry publication Music Business Worldwide). But this time, the offer applies to new customers in the US, as well as throughout Latin America, and in Spain, Italy, and Portugal.
This is obviously going to cost the company some money in the short term. But it shouldn't be too hard for Spotify to shoulder this, especially after it raised $350 million in fresh funding last week from a consortium of investors including private clients of Goldman Sachs.
In any case, the promotion very much looks like a land grab for customers before Apple, the world's biggest company, launches a highly anticipated streaming service of its own.
Apple acquired Beats Music, the streaming service previously part-owned by Dr Dre, in a $3 billion deal last year. It is expected to relaunch the service, probably under the iTunes label, at its developer conference in June. Apple already has credit cards on file for millions of music download customers. If it can convert a fraction of those customers into streaming subscribers, it could completely reshape the industry.
Apple also seems to be finding other ways to flex its muscles. Earlier this week, The Verge reported that Apple has been behind some of the pressure Spotify has been feeling from record labels to drop its free tier. (We've reached out to Apple for a comment on this.) The labels, as Quartz has reported before, believe that the offering is hurting download sales and dissuading people from buying subscriptions, while Spotify has argued that its free, ad-supported tier is the main funnel for its subscriber growth.
The brouhaha suggests that the next major front in the streaming music wars will not be online, but in Washington. According to The Verge, both the US Department of Justice and the US Federal Trade Commission are investigating Apple's business practices in streaming music, and perhaps not coincidentally, Spotify has recently upped its lobbying presence in the US capital.